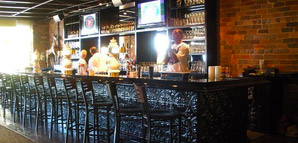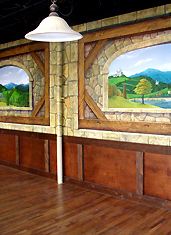 It's coming... and you can feel it.
Soon you will be making merry in a fantastical world of schnitzel, lederhosen and oversize beer steins swaying this way and that.
Yes, next Thursday at your place will be awesome.
But until then, it's time to turn our attention to Oktoberfest...
And from now on, this is where you go to do it justice. Introducing
Der Biergarten
, the city's first and only authentic German garden of beer, opening next Wednesday in the heart of Downtown.
Let's face it, we could probably just stop right there... but let's take things a bit further. You'll begin your evening by ascending a dramatic flight of stairs under the watchful eye of a giant beer maiden mural (if anything, a good sign of the international relations to come). And then, at the apex of your climb, you'll stumble directly into your destiny:
A colossal indoor/outdoor beer garden poised and at the ready for whatever Old Man Revelry has in store. Then it hits you... it's decision time. You could either take your chances at a communal table with a few new friends over a Spaten Lager (or one of 12 other German drafts), or head inside for some
Schweinshaxe
(mustard-rubbed rotisserie pork shank with cracklings). Either way, you're looking at 7,000 square feet of pure Bavarian bacchanalia.
And who knows, you might even find yourself engaged in an epic folk dance-off when the live German oompah band fires up.
Nothing says go time like an oompah band.