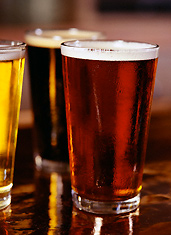 On a beer-consumption scale, Labor Day rates pretty high.
And yesterday was no exception. Still, you can do better. Craftier. Downtownier.
Introducing
The
LA Craft Beer Crawl
―an epic day of unlimited drinking at seven of Downtown's finest watering holes, now selling tickets.
Basically, this is the filet mignon of pub crawls. The formidable restaurateurs behind the Cedd Moses empire (
Caña Rum Bar
,
Las Perlas
,
Cole's
) have teamed up with LA's famed beer sommeliers, the Beer Chicks, to bring you more than 50 of the finest craft beers around, from names like Brouwerij West, Stone Brewing Company and TAPS Fish House & Brewery.
So here's how this will go. You'll get your ticket now, then show up around 2pm at Casey's to claim your six-ounce glass and plot your course. At 3pm, you'll hit the bars in any order you like (they're all within walking distance) and fill up your glass as often as you like, keeping in mind that there'll be a bit of a theme at each venue (Caribbean brews at Caña, south-of-the-border cervezas at Las Perlas).
Fuel-wise, you can expect some food trucks working the perimeter—or you could spring for the VIP ticket. That gets you into the Varnish for French dip sandwiches to go with your beer and beer cocktails.
This will also be good practice for next month's sandwich crawl...