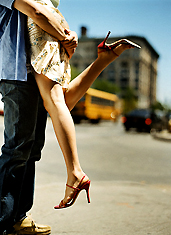 Heading into Labor Day weekend, we're not about to stand in your way.  
Just go out there, do your thing and make sure when you come back that all summer flings, casual acrobatic acquaintances and unknown Heathers in your contact list have been released back into the wild.
It's time for a fresh start...  
Introducing
StreetSpark
, a brand-new dating app that scans your immediate surroundings for... romantic opportunities—and sets off a pleasing vibration every time one enters striking distance.
Consider it the village matchmaker, only more supportive of promiscuity, and miniaturized for your iPhone. After you download the app, and fill out a profile for yourself (antique-collecting seafaring adventurer with a hidden romantic side) and your perfect match (professional volleyball player with a penchant for mixing infused bourbon cocktails), StreetSpark will begin a steady and endless sonar scan of your vicinity. And by sonar we mean GPS.  
Should someone resembling Your Perfect Match (even just semi-pro volleyball players) appear nearby, your phone will engage DEFCON 1 protocols and arm the warheads of love. You'll casually peruse their profile and pic (and see their Facebook "likes") and then choose whether to "ignite" this particular spark and send a message to the person, or to "extinguish" it and nip the bloom of romance in mid-blossom.
Of course, the other person also has the option to ignite or extinguish you.
Luckily you are highly flammable.