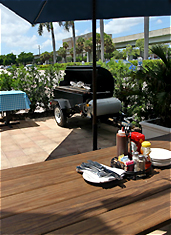 We know you're itching to unplug from technology and get to that '70s bikini-themed yacht party off the coast of South Beach.
So we won't keep you.
But before you go, we did want to give you this little tangy heads-up: you can now get your barbecued ribs without ever unbuckling your seat belt or turning down your Little River Band. It's called
Bar-Be-Cue Express
, and it debuts tomorrow at Smoke't.
So this is what will happen. The next time your stomach starts screaming for baby back ribs smothered in Carolina mustard BBQ sauce, you'll stop whatever it is you're doing (reading, watching TV, putting a wet bar in your laundry room) and head to Coral Gables. Specifically, the back patio at Smoke't. (Note: ideally it's a weekend—that's when this is available.)
Here, you'll pull up to the curb, where a BBQ chef will be waiting, smiling and sharpening his spatulas. You'll tell him what you're in the mood for—ribs, half-pound burger, all-beef hot dog, chicken sandwich—he'll grill it for you on the spot, wrap it up and have you on your way in 10 minutes.
And because no flame-broiled meatstuff is complete without something sweet, they'll also have homemade ice cream sandwiches waiting for you in the freezer.
They will not be barbecued.