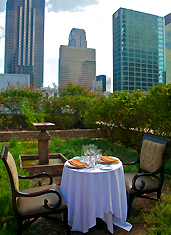 You've gone big on dates before.
You've rented out vineyards in Napa. You've flown to Maine to handpick lobster. You've bought multiple pay-per-view movies.
But today we bring word of a dating move so powerful, it has to take place on a terrace high above the city. With fresh honey...
It's called
Dinner in the Garden
, and it's, well, dinner in the garden—a new two-person offering at Pyramid Restaurant, located on a spice-laden terrace at the Fairmont Hotel.
First of all, let's be clear: this is not casual. This is not frappuccinos in a coffee shop or beers in a dive bar. This is a big move, so your first step will be making sure the person you're going to be sharing this with is quote unquote terrace-worthy.
Once that's settled, you'll head to Pyramid and tell the hostess you've got reservations for the roof. From there, it's a short elevator ride up to the terrace, where you'll find a maze of bushes, strawberries and watermelons, and the palpable smells of fresh herbs.
You'll take a seat at your candlelit table in the middle of all this bush-ness. And while the menu hasn't been set yet, you can expect meals like rack of lamb complemented with herbs, spices and fruits from this very garden.
And for dessert:
Blueberry Claufoutis
with lavender ice cream, featuring honey extracted from one of the two beehives located only a few feet from you.
Beekeeper costume optional...
Note:
Dinner in the Garden at <a target="_blank" href="http://www.pyramidrestaurant.com/">Pyramid</a> at <a target="_blank" href="http://www.fairmont.com/dallas">The Fairmont</a>, taking reservations starting September 7 for dinners starting September 10 (48 hours notice required), 214-720-5249