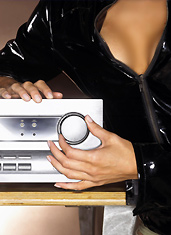 "Barbie Girl."
"Party in the USA."
"Mmm Mmm Mmm Mmm."
There are some songs that just don't leave once they're stuck in your head.
And while we can't help you with how they got there, we found something to help you get them out.
Presenting
Unhearit
, a website that randomly selects different songs to kill off whatever chorus happens to be plaguing your every thought, now available.
Think of it as the music-bug exterminator you can call upon after you've gone from your commute, to your office, to the snack room with Haddaway's 1993 club favorite "What Is Love" burrowed in your brain like a tick. (And if it wasn't there before, it is now, so keep reading...)
To avoid spending the rest of your day doing the
Night at the Roxbury
head-bob thing, here's what you do: open up Unhearit and click play. It'll select a track at random for you to listen to, either in its entirety (getting Rickrolled requires a whole song) or just for a bit (the opening 10 seconds of "Intergalactic" usurps most annoying tunes). Soon, you'll be free of the shackles of bad pop music.
Of course, replacing one annoying song with another is a risk, but it's probably a risk worth taking.
Anything is better than C+C Music Factory.