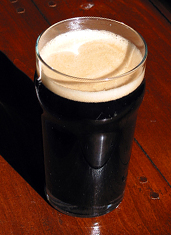 Today we bring news of a near-magical place.
A near-magical place with about a million beers—and every single one of them goes for $3. Anytime.
Introducing the new and (much) improved Irish sports pub
Dublin's
, scheduled to open Friday in a sea of beer, flat-screens and beer.
Surely you remember Dublin's days on the Sunset Strip (except for the parts you don't remember). Well, this new incarnation is exactly like that.
Except the TVs are bigger (and everywhere—there are 40), the location is Downtown-ier, and they've now got 100 taps pouring Belgian, American, Czech and German beer―that's 65 labels in all, plus another 15 (Grolsch, Red Stripe) by the bottle. And they're always $3, from the moment the doors open (11am) to the moment they lock (2am). (Well drinks are a mere $4.)
Which means this could be your new spot to loosen the tie at lunch for a pint and a
Surf and Turf Lobster Burger
(the menu got an upgrade too). And since it's basically permanent happy hour, you might want to stop by after work as well.
And on the weekends, as the football games wrap up, the tables in back will be cleared out to make room for a dance floor, just like the old days on Sunset.
You're next, Miyagi's...