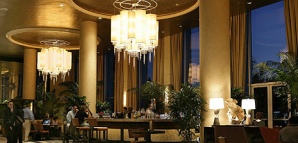 In a cutthroat world, one can never have too many options for after-work drinks.
Just ask the minds behind the Century Plaza hotel, who have quietly soft-opened the property's second soon-to-be power spot. Welcome to
Lobby Court & Patio
.
Joining the already established
X Bar
at the hotel—which is connected by underground tunnel to CAA across the street—the Lobby Court & Patio is a bit more under-the-radar...for now. But upon stepping through the glass doors and into the completely redone lobby, you'll be immediately struck by the textured gold-paint ceiling anchoring oversized clusters of luminescence above. Grab a seat at the central ovular bar, or at the discreetly spread-out groupings of couches and leather chairs on either side. (You're no stranger to the occasional need for discretion.)
As winter turns to spring, however, you'll be more interested in strolling directly through all that to find your place among the curtain-festooned mega-cabanas out back. (The pool is just beyond the fence and ethanol fireplace.) But no matter where you broker your deal, you'll be aided by shareable bar food (
Bloody Mary Shrimp Cocktail
), a cigar menu, classic drinks (single-malts, martinis, sidecars) and specialty concoctions like
Mike's Pear Martini
, made with a hint of brandy.
It goes nicely with the taste of power.