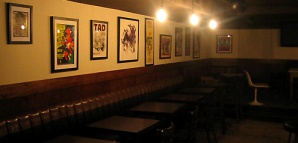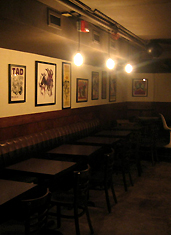 Once upon a time, there was a notorious after-hours called Save the Robots.
It was hidden in a windowless Avenue B basement where "time" was an abstract concept, music was loud, and love was free.
Well, those days of unchecked thrills are gone, and now that den of debauchery has been refashioned into... a den of debauchery.
Introducing
Idle Hands
, a top-shelf bourbon and rock bar, opening soon for secretive rendezvous away from the prying eyes of the Alphabet City night.
As with its long-lost ancestor, Idle Hands is a challenge to enter. But like most journeys that end with a selection of 70 rare and exotic bourbons, you proudly soldier on.
So search out the unmarked silver door. Don't bother knocking. Just push it open, head down the long, dim hallway, down some stairs, and you'll find yourself in a sepia-glazed, no-frills bar's bar decked in leather banquettes and lots of dark wood (sort of like a more refined, bourbon-ier
Cabin Down Below
).
Since the spot is captained by a trio of music business friends, expect wall-to-wall rock, bartenders who can handle the classics (Manhattans, Sazeracs, Old Fashioneds), a modicum of hipsters, lots of post-concert revelry and moody subterranean coziness.
And should you be overcome with an instantaneous and inexplicable desire for a Cajun theme party, another hidden staircase in the back of Idle Hands leads directly into Billy Hurricane's upstairs.
Because sometimes one hidden staircase is just not enough.