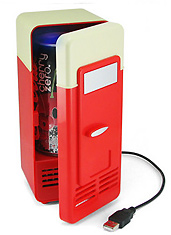 Tuesday afternoon.
It's times like this when the endless meetings, infinite emails and unrelenting co-worker-ness of the office begin to try one's soul.
You need an emergency remedy. Preferably in the form of a 12-ounce can...
Presenting the
USB Beverage Cooler
, a tiny one-can fridge and the latest in
USB beer-chilling technology
, now ready for your 4:30pm office break.
Think of this as the cubicle-world equivalent of the small barrel of whiskey that a St. Bernard gallops in with to save the day, minus a wagging tail and plus a few TPS reports.
It's pretty simple, really: you just plug it in to any available USB port on your laptop or desktop, and this little guy will create a frosty environment to house one single 12-ounce can of stress relief (at least until engineers perfect the USB tallboy fridge).
So say it's been a particularly troubling day. The fax machine somehow converted into a shredder. The young exec vying for your job has just found out about your secret past. Your office neighbor can't stop giggling at a break-dancing grandmother.
It's at this point you'll want to reach over, open the diminutive fridge door and pull out the ice-cold treasure found inside.
Note to self: stock up on beer koozies.