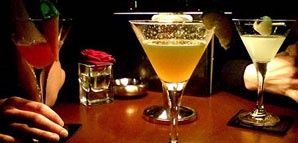 You've heard all the talk.

And as the hush-hush February debut draws closer for The Doheny—the already infamous $2,200-per-annum, members-only lounge from downtown's honorary king of nightlife reinvention, Cedd Moses—you've been feeling a little anxious...and a lot thirsty. Which is why we convinced generous head barman Vincenzo Marianella (Providence) to pass along the recipes for a few Doheny cocktails from the rotating menu. Enjoy...

The Drink: Smoke of Scotland
The Prep: Combine 2 oz Laphroaig (cask strength), 1/2 oz Noilly Prat extra dry vermouth, 1/2 oz St. Germain Elderflower liqueur and 1/2 bar spoon Amaro Cynar. Stir, strain into cocktail glass and garnish with a flamed grapefruit peel.
The Pitch: "I was recently asked for a single-malt cocktail and there aren't that many," says Vincenzo. "I love the power of the Laphroaig, and the Noilly Prat keeps it dry."

The Drink: Gin Rouge
The Prep: Combine 2 oz Plymouth gin, 1/2 oz Aperol, 2 dashes Angostura bitters and 1 oz organic pomegranate juice. Stir, strain into cocktail glass and garnish with pomegranate seeds.
The Pitch: "I think this one will be the most popular. Aperol is an Italian bitter, like Campari, that has only been allowed into the U.S. in the last couple of years."

The Drink: Doheny Pisco Punch
The Prep: Muddle and build 10-12 mint leaves, 2 or 3 pineapple cubes, 2 oz BarSol Pisco, 3/4 oz fresh lemon juice, 1/2 oz homemade vanilla syrup, a dash of Angostura bitters into a Collins glass. Top off with Bundaberg ginger beer and garnish with a mint sprig and a very thin slice of pineapple.
The Pitch: "This is my variation on the Pisco Punch, which was created in San Francisco in the late 1800s or early 1900s—but the creator passed away without passing on his original recipe, so there are several variations."