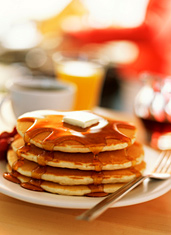 The situation is as follows:
It's a Sunday. You're in an art gallery. And you're contemplating a great work of art—specifically, a few tiny gelatin balls that may or may not contain bacon.
Allow us to explain...
You are at
The Breakfast Club by Artisa Kitchen
, debuting next month to give you 15 courses of brunch in a gallery to be named later.
In short, it's a secret society devoted to the most important meal of the day. Your host and culinary mad scientist: Jaleo cook Bryon Brown, who has been moonlighting for Artisa's roving series of 12-course dinners, served in some of the city's top art galleries.
This time, Bryon is turning his attention to mimosas and maple syrup. Once you sign up, you'll be notified which gallery got the breakfast nod. Show up at the civilized hour of 1pm, and get to know your two to three dozen dining companions while you peruse the art. (Nothing gets you hungry for pancakes like late post-impressionism.)
Then you'll sit down for 15 courses—at least one more course than you typically enjoy at home. Most are still in the R&D phase, but we have it on good authority that you can expect pancake flights and an array of brunch cocktails that the chef is developing with the mixologists at the Gibson.
You've been meaning to open your Bloody Mary to artistic interpretation.