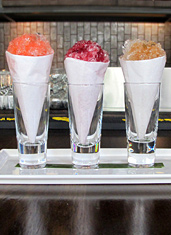 Snow cones—the food group most suited to eating outside.
But not this time.
Because taking these snow cones outside would be a misdemeanor.
Introducing
Tequila Snow Cones
, the most intoxicating iced delight to hit the city since
BBQ soft-serve
.
To sample this childhood treat hostile takeover, you'll need to head deep into the underground agave vault of
La Biblioteca
. At this point, you should probably know that hidden from view in the kitchen is a giant plastic polar bear named Miguel, whose spacious insides are devoted to the crushing of ice into snow form. Said ice is then scooped up by a chef (who also happens to be named Miguel) and turned into the treat in question by the liberal application of tequila and homemade syrups.
You'll be served a trifecta of flavors and colors, ranging from strawberry to hibiscus to tamarind to whatever else the Miguels have conjured that night. And since this is a tequila bar, you'll be deciding among 400 bottles to kick up your cone.
Then, as the brain freeze competes with the 80-proof liquor for total mental control, you'll think back to those carnival snow cones of your childhood.
And wonder if giant bears named Miguel were responsible for those too.