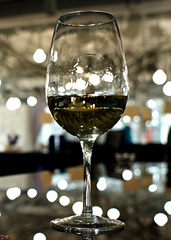 Ah, rare wine...
So tasty. So impressive to other people. So hard to obtain.
Wait—scratch that last one.
That's because today—to the dismay of goateed sommeliers all across Southern California—we bring you word of a place that is going to make impossible-to-find wine bottles a lot less impossible to find.
Miles from
Sideways
, this is your moment to get excited...
Say hello to
Vinissimo
, a secret wine shop that, after years of supplying wines to some of our city's top restaurants, is now opening itself up to the public.
You'll have to make an appointment, and you'll have to get yourself to an unassuming little storefront in Pasadena, but we think it's worth your trouble the next time you're planning an all-stops-out date night at home, or want to convince a wine-loving producer to invest in your
Terms of Endearment
-meets-
Zombieland
pitch.
The folks at Vinissimo have been getting the top Spanish and Italian wines to your tables at Campanile, Cube, Dominick's and the Mozzas for years—and now, by removing the middleman, your wine cellar (/rack on your kitchen counter) is next.
Come in, look around, ask questions and buy a couple bottles for your big night.
And if your needs happen to be more year-round, you may want to spring for a $50 annual membership. That'll get you wholesale prices, and cases are discounted an extra 10%.
So it's similar to your secret-vodka-shop arrangement.