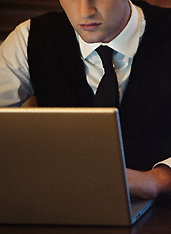 You live a charmed existence.
So generally speaking, you feel pretty good. But there are those times when the universe deals you a hand that leaves you dragging your feet and getting all Robert Pattinson-y glum (or it's just Monday).
Don't worry. The Internet is here to help.
Introducing
Pepfly
, the Cambridge-based website that pulls from various media (video, blogs, images) to help you turn that frown upside down, now available in beta.
If Pandora, Google and a mood ring had a child, it would look something like Pepfly. So let's say you find yourself in particularly poor spirits, and nothing is working—not even the YouTube video of A-Rod's steroid interview. Explain to Pepfly how you're feeling, and then sit back as it sources from a huge database of uplifting and/or humorous video clips, blogs and images they've deemed capable of adding a little mirth to your mope.
They'll even explain why they chose what they chose, citing tidbits of factual research on the benefits of silliness during moments of brooding.
You could have really used this during every Sox season before 2004.