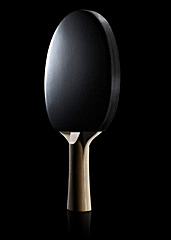 Quite simply, your epic Hollywood nights have long been missing two things.
1) Ping-pong tournaments
2) Susan Sarandon
So today we bring welcome news—there's a wildly famous NYC nightspot coming to town that will help on both fronts. It's called
SPiN Hollywood at Mondrian
, and now is the time to get excited.
First, some background: last year, there was a band of nightlife pioneers (one being Susan Sarandon, that legendary actress/ping-pong royal) who decided that
what Manhattan really needed
was 13,000 square feet of booze, DJs and paddles. (New Yorkers agreed.)
And now it's our time. For the next few months,
Mondrian's ADCB lounge
, just to the left of the lobby, will be your new home for ping-pong tables, a DJ booth that looks like another table and the occasional telegenic FOS. (Friend of Sarandon). Because sometimes you and your date will only be satisfied with a
Blueberry Tochi
in one hand (it's blueberry vodka, cactus-pear puree and torn orchids) and a paddle in the other.
The grand-opening bash is on the 20th, and you'll want to
RSVP now
before they fill up. After that, they'll be open from 11am to midnight (and until 2am Thursday through Saturday) for roaring tournaments, casual matches and tabloid-ready celeb blowouts.
Just watch out for ping-pong hustlers.