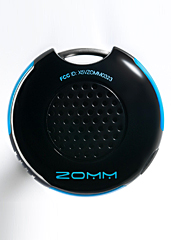 This weekend, you will find yourself outside, amid many dangers and distractions. It will be dark. It will be noisy. There will be explosions. There's a chance you could lose a finger.
Or, worse, your phone.
Helping you keep most of your personal belongings on your actual person:
Zomm
, a clever device that might just keep you from ever losing your phone again, available now.
Here's how it works: you'll attach a round plastic fob to your key chain, turn the thing on, and it will automatically sync to your phone via magic (also: Bluetooth). And then... there is no then. Now you've got an invisible 30-foot tether between your phone and your keys.
So say you're in the back of a cab tonight, on your way to Taste of Chicago. In the midst of the flurry of silk top hats—we'll assume you're taking a horse-drawn hansom cab—and your excitement for that first bite of pickle-on-a-stick, you somehow exit the cab without your phone. But just before your ride trots off into the steamy July night, your key chain starts beeping and you turn, heroically, rescuing your phone just before it takes its own lap around Grant Park.
Grab your date while you're there.