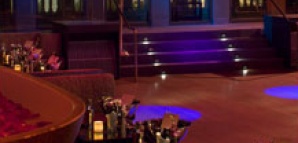 You've heard the rumors: There's some decadent nightlife in Vegas. But now, more than any other year in recent memory, Sin City's nightclub roster is truly outdoing itself, with each over-the-top opening followed by yet another debut. And so we present your top five (four... three... two... one...) places to start 2008 in an appropriately restraint-free manner.
TAO Nightclub
The Resolutions:
At this mainstay, you already know to expect debauchery. You should also expect an open bar and passed hors d'oeuvres for the first two hours, as well as your date's favorite five-octave-ranged singer as hostess for the evening.
The RSVP:
Tickets start at $250, TAO Nightclub at the Venetian, 3377 Las Vegas Blvd South, Las Vegas, 702-414-9000 for general admission, 702-388-8588 for VIP tables
Prive and The Living Room Lounge
The Resolutions:
There's only one thing you need to do to enjoy Prive, Opium Group Miami's first emissary to Las Vegas and the largest nightclub opening this New Year's weekend—make it past the velvet rope. (Not a problem for you, of course.) Inside the 15,000-square-foot nightlife complex, you'll find hand-strung chandeliers, croc-embossed leather couches and a soaring two-way fireplace.
The RSVP:
Opens Dec 28,
NYE tickets
start at $200, Planet Hollywood Resort and Casino, 3667 Las Vegas Blvd South, Las Vegas, 702-474-4000 for general information, 702-596-4333 for VIP table reservations
The Bank
The Resolutions:
In the tri-tiered former home of Light, you'll find just 44 VIP tables and, of those, just two ultra-VIP balcony tables from which you can survey the action. And then there's the ultra-ultra VIP Red Room...
The RSVP:
Opens Dec 27,
NYE tickets
start at $250, The Bellagio, 3600 Las Vegas Blvd South, Las Vegas, 702-693-8300
CatHouse Loungerie
The Resolutions:
After greeting the CatHouse "kitten" as she preens in lingerie behind two-way glass, you'll sample food from Kerry Simon and beats from DJ Robert Oleysyck on your last night of 2007. The private curtained booths are also a plus.
The RSVP:
Opens Dec 29, Luxor Las Vegas, 3900 Las Vegas Blvd South, Las Vegas, tickets and VIP packages available at 702-262-4228
40/40
The Resolutions:
At 24,000 square feet (just smaller than Rain but larger than Studio 54), Jay-Z's sports bar-restaurant-ultralounge-nightclub hybrid is among the city's most opulent. The man himself will be bringing his coterie for the big night.
The RSVP:
Opens Dec 30, NYE tickets start at $700, The Palazzo at the Venetian, 3325 Las Vegas Blvd South, Las Vegas, 702-638-4040