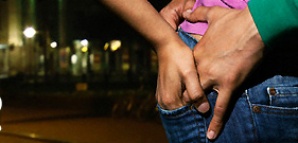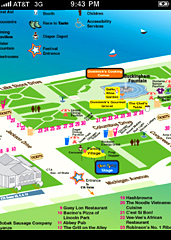 At some point this week, your priorities will come into clear, sharp focus.
Beer. Chicken and waffles. Break-dancing. Meat on a stick. (In that order.)
Here to make sure your appetites are satisfied as quickly and painlessly as possible, the
Official
Taste of Chicago iPhone App
.
The premise is easy enough to understand: the Taste is big. Chicago is hot. And if you're going to make it from Booth 1 (Bobeck Sausage Company) to Booth 53 (Garrett Popcorn) without succumbing to the effects of heat exhaustion—or deep-fried-batter-induced fatigue—you're going to need a foolproof plan.
So this puts a map of each and every vendor, performer and specialty beer tent in your pocket. But here's where things get interesting: now, with a few clicks of a button, you'll be able to create your own individual itinerary for the day and email it to your friends.
That means your friends will be able to keep track of you during your ambitious Fourth of July attack: prime rib quesadillas from the Grill on the Alley, a few churros from Adobo Grill, getting sweaty with Passion Pit before you swing by with a turkey leg from Manny's.
Because you'd hate to miss dessert.