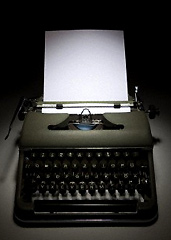 No offense to your new iPad, but somehow we can't quite imagine Hemingway using predictive text.
"Ask Note for Whom the Belt Tools..."
So for that great American novel, hard-boiled detective story or soon-to-be-optioned screenplay (
Toy Story 4: Vampire Stories
), we present the
USB Typewriter
, helping that old Smith Corona of yours clack its way back into the digital age.
Thanks to the power of a soldering gun, a few software hacks and a love for the old-fashioned sound of a manual keyboard, these reverse-engineered typewriters take you back to a time when all your literary heroes pecked with one hand and belted back whiskey with the other. Except you'll still have spell-check.
You'll be able to choose among a few options on the USB Typewriter website. But if you send in that ancient clunker you have collecting dust in the closet, they'll be able to make it as good as... old. When you get it back, just plug it into your favorite word-processing device and it will work like any standard keyboard—only much, much louder.
Your colleagues are gonna love it.