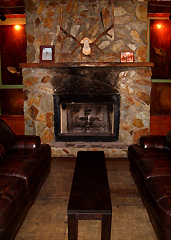 Let's keep things simple today.
Start with ice-cold beer, add some homegrown rock talent on the stage... and maybe a few moose heads thrown in for good measure.
Sounds a lot like a good old-fashioned watering hole...
Introducing the
Buckhead Saloon
, a rambunctious new den of unrefined glory risen from the ashes of the old Rio Grande space, soft-open now for your everyday drinking pleasure.
You won't find any cocktail menus here, nor will you be offered bottle service or a liquid nitrogen Nutella-tini. But what you will find is an unhinged bar, with plenty of free-flowing booze—and a giant dance floor to take it out on. After you make your way past the aforementioned moose head (whose antlers are strangely lingerie-free, for the moment), make a right and you'll find yourself in a little hunting lodge of a lounge, complete with dark leather couches, flat-screens and a massive stone fireplace.
Out in the main room, you'll find the standard bar fare (like the
Buck-Up Beef Dip
and, of course,
Fried Pickles
) until 10pm, after which time the tables are removed, the band tunes up, and your night begins. Oh, and in case you were wondering, the monster of a patio has been kept intact, and every Sunday it will be the site of a beach-themed party with a Bloody Mary bar, a pool (inflatable still counts) and plenty of bikini-clad revelers to fill it.
All saloons should have pools.