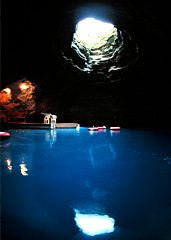 Today, we'd like to take you back. Way back.
To a time, 10,000 years ago, when volcanoes could spit their fire without delaying one Icelandic flight.
And more specifically, to one volcano. In Utah. That over time settled down, and now happens to be flooded with water. Warm water. We think you see where we're going with this: scuba.
Welcome to
Homestead Crater
, an old volcanic crater filled with warm water that's perfect for scuba diving, open now in Utah.
To get to this aquatic behemoth, you'll first need to steer your car, private jet or jetpack toward Midway, Utah, about 15 minutes away from Park City. Once you're at Homestead, you'll look for an enormous rock formation nicknamed the Beehive (more for its attitude than its look). Pass through a manmade tunnel and you'll be at the crater—a giant dome where the sun peeks in from above, and the massive amount of water below stays a crisp 90-some degrees year-round.
You'll want to suit up (if you're not certified, they can train you) and make your way to one of the submerged platforms. There, you can take your dive up to 55 feet deep (advanced level, as you're undoubtedly aware), where you'll be treated to unrivaled close-ups of ancient limestone and wildlife. (By which we mean the occasional mermaid.) And should you crave more, you can come back later in the day for an unadorned frolic.
Or as unadorned as you can get in Utah.