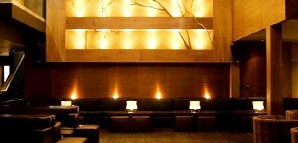 Among the few concepts you've never truly understood: "Too much of a good thing."
So it is with unabashed hedonism that you welcome tonight's debut of
Central
, the equally decadent sister lounge to your current favorite Hollywood-upper-crust restaurant Parc.
Both are owned by Shereen Arazm (who's been
on your mind a lot lately
), and both embody an upscale take on the great outdoors. (The branches peeking through Central's back wall recall the lantern-lit indoor tree coiling above Parc's dining tables.) Think of the two combined as a supper club, but with an extra space or two between the words "supper" and "club"—you don't have to re-park, but you do have to walk outside and around the corner.
After breezing through the velvet-rope mob, you'll proceed through the expansive main room to your corner booth, which offers the best view of the hand-carved bar and the dangling bulbs bathing the industry crowd in faux starlight. Once situated, you'll be greeted with a bottle-service-and-then-some concept that means you can order your libations with platters of, say, caviar or cheese. (The menu is being finalized.) And when the upstairs is complete, there will be further VIP-ness—there's space for you and yours to stow away in the secret nook inside the glass-enclosed DJ booth.
It's quite literally the view from the top.