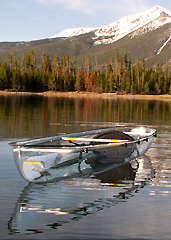 Ah, your humble kayak. You've been dropping it in the water as long as you can remember. And it's always been basically the same.
At least until now, when they've gone and turned the thing into a bulletproof fighter jet.
Presenting the
Molokini Transparent Kayak,
a space-age sort of two-person vessel available now for your next invisible paddling excursion down the Potomac or around the Chesapeake.
This is what Huck Finn would have paddled down the Mississippi on, had he been born 150 years later and moonlighted for NASA. Your steed's a super-light 40 pounds, which gives you a quick portage from car to shore.
But once it's in the water, you'll notice it's also immensely strong. In fact, it's made from the same stuff that's used in bulletproof glass and fighter jet canopies—useful for the next time you draw fire as you paddle through Great Falls.
Oh, and we should also mention that the entire thing, apart from the ergonomically designed seats and the stability system, is perfectly clear and transparent... In clear waters you can see up to 75 feet below the surface.
Which means you can finally document all those Potomac River mermaids you're always going on about.