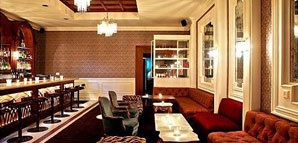 You're all for secret hideaways.

Until now, though, you never thought you'd unearth one within steps of the Third Street Promenade—especially not one you'd ever want to visit. But Chloe officially opens tomorrow to bring some after-dark intrigue to the neighborhood.

Past an unmarked red door next to the Hotel Carmel, you'll step into an opulent French boudoir with antique-y mirrors, tufted banquettes...and the occasional tiger stripe. If you think it sounds like too much, you should know that the owners also run two of your classy-but-come-as-you-are favorites further east, Magnolia and The Bar. (As evidenced by the latter, they have some trouble naming their haunts. Chloe is named after one of their dogs.)

After settling in with your French Martini, Pimm's Cup or Whiskey Cobbler (that's bourbon, Grand Marnier and fresh lemon), you'll sample small plates that are accessible but with a twist—the fries come with malt vinegar and sea salt, and you'll find ingredients like persimmon and pistachios that came from the Farmer's Market just up the street. Further menu questions should be directed to one of the girls outfitted in a grey cocktail dress by local designer (and current "Project Runway" contestant) Rami Kashou.

Because hunting for hideaways always makes you hungry.