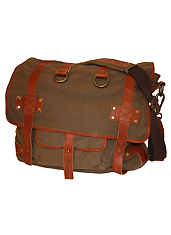 We hear you have big plans this weekend. The kind of plans that will take you over great hills and across state lines. A motorcycle may be involved. A beach certainly will.
But first things first: your essentials. Like a bocce set. Your favorite bottle of rye. A stars-and-stripes bandana.
Now you just need something to pack them in.
Introducing
Will Leather Goods
, the best-looking things you've put on your shoulders since those runway models in Miami. They're available now at M29 Lifestyle in Georgetown.
These are the kind of well-worn bags that Dennis Hopper might have piled onto Captain America for a cross-country jaunt. In fact, the messenger bag is called the Hopper, a weathered canvas and leather number perfect for your trusty laptop. (You're not above checking the Nikkei index from your cabana.)
We also like the Lennon, a dark navy rucksack that can handle an extra swimsuit, a towel and that battery-powered blender you carry all summer. And because your weekend cash also needs a soft place to rest, you'll want to check out the wallets, decked out with smart touches like flannel linings, bronzed chains and metal rivets. (More Slash than Lennon, but we digress.)
And it all comes courtesy of a wizened leather guy based in... Eugene, Oregon.
We await the Lewis and Clark-inspired leather pants.