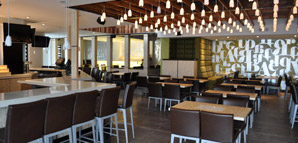 Things happen in the Financial District.
Mergers. Acquisitions. Hostile takeovers mixed with power lunches. Office chair Olympics.
But lately Buckhead just seems to be missing something...
Like a new reason to stick around after work... and maybe
after
after work.
Which brings us to
Buckhead Bottle Bar
, a provocatively raucous new lounge to add to your late-night arsenal, making its soft-debut next week.
Think of it as the kind of place you might see Gordon Gekko and the ghost of Steve Rubell catching a cocktail and a few laughs after a long day running empires. Make your way past the multicolored bottles lining the outside windows (pulsing in sync with whatever the DJ is spinning inside) and step through the doors. Now, look up.
Slowly rotating over the throng of leggy socialites, industry nobility and old-South business mavens is a massive white chandelier in the shape of a flower (a clever distraction, but you're not here to look at flowers). Sidle up to the room-length onyx marble bar for a
Bohemian Sidecar
(made with cognac, absinthe and lime) before making your way up to the elevated VIP area, where the aforementioned leggy socialites are just getting warmed up.
It might also be worth mentioning that a strangely intriguing menu will be available (think
White Wine Mussels
and
Goat Cheese Gnocchi
)... in case you plan on making an evening out of it.
Never try to keep up with leggy socialites on an empty stomach.