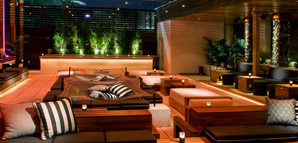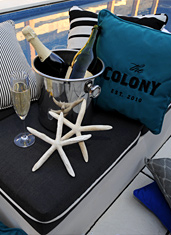 If you were in New York, it would be time to start thinking about your Hamptons weekends right now.
You're not.
So it's about time to start thinking about your Hamptons weekends... in Hollywood.
Introducing Cahuenga's hottest new Hamptons-themed nightclub—
The Colony
debuts Friday, and they brought the nautical vibe and the alcoholic popsicles.
Finally, you've got a sprawling den of indoor-outdoor debauchery from SBE (
Mi-6
,
Industry
) that feels somehow Kennedy-approved and Montauk-adjacent. From the wooden-plank entrance outside that looks like a lifeguard stand, you'll enter into a blue-and-white deck with a hammock-covered pool and cabana-style seating.
That's where you and your friends will want to start things off... with some alcoholic sushi. (Think Jell-O shot instead of tuna and rice paper instead of seaweed.) They've also got booze-filled popsicles, champagne-sorbet foams on mini-spoons—and olives skewered on pipettes filled with splashes of martini.
Now that you've had a healthy dinner, you're ready for the open-air dance floor—it's surrounded by wave-covered walls, tiers of tables with secret storage under the seat cushions and, by the back bar, a suspended turquoise kayak (the top has cushions, so it's like a bench/swing).
And if anybody in your group needs to ditch her stilettos for some flip-flops, there's a beachy retail kiosk on site—yes, in the middle of the club—with some VIP storage lockers at the ready.
Which is also good news for your seersucker blazer.