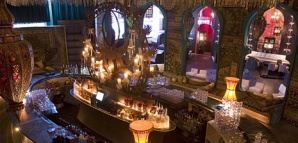 When you go out, you go all out.

So you might appreciate more than 7,000 square feet of Indian(ish)-themed nightlife revelry from Hollywood kingpins Adolfo Suaya and former soap star Michael Sutton. Goa opens to the public Saturday night.

Once you get past the door, you'll enter a labyrinth that translates the Indian theme rather loosely. In addition to the 200 Persian rugs(cut up to cover the walls), eight miles of Chinese-imported gold chain (cut up to string from the ceiling), and one candle-friendly Shiva illuminating the main bar, there's also a sultan's bed, a two-level back patio and...a sushi bar.

Overseen by Ted Fujita (of Yu-N-Mi Sushi, your Beverly Hills favorite despite the name), the Japanese menu includes signature items like Stuffed Calamari with Crab Meat and Eel Sauce served omakase style. Your food is best enjoyed at the counter upstairs, or at one of the distinctive hexagon booths in the central room downstairs.

Goa plans to roll out slowly, open Thursdays and Saturdays only to start, with booth reservations coming only to those who already have the owners or promoters on speed-dial—Hartwell and Josh Richman will handle Thursdays, and Sutton himself will handle Saturdays. (There's not even a publicized phone number for the club yet.)

None of which presents a challenge to you, of course.