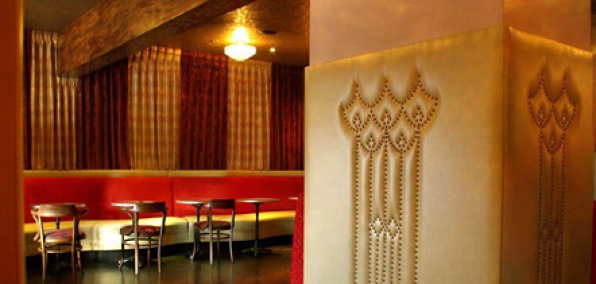 If your classic after-dark doings always had a piano soundtrack, it would probably be Beethoven. Or at least Gary Oldman as Beethoven. That guy got crazy.

But sometimes you just need something less "Ode to Joy" and more…ode to low-key. A stiff manhattan. Some grub. And a man at the piano in back, plunking away at the classics. Like the "Charlie Brown Theme."

Welcome to Angel's, now open in Santa Monica.

Brought to you by the owners of solid come-as-you-are spots like Temple Bar, Little Temple and Zanzibar, this is a dimly lit neighborhood-y place where singles can sidle up to the bar for a Rusty Nail and some Chicken Oysters topped with a fried egg.

And couples can sneak to a booth in the back by that piano, which will ensure no neighbors can eavesdrop upon your sweet nothings.

And neighbors from around the corner can come in, grab a table by the entrance and watch it all go down—when not distracted by the waitstaff's devout commitment to plunging necklines.

And that's one commitment worth keeping.