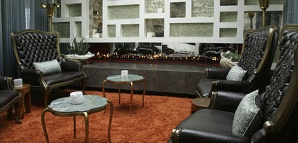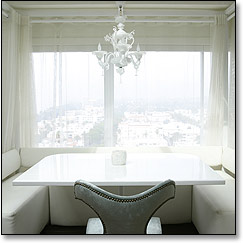 So you and your honey (or perhaps the honey you'd like to meet) prefer the view from on top? Well, now you can both be satisfied—simultaneously.
The Penthouse
at Santa Monica's Huntley Hotel (and its 360° view), which soft opens February 12th after a one-year revamp, is now taking reservations.
Shoot straight to 18th floor in the VIP, glass-encased elevator to enter this mod-at-the-beach restaurant/bar/lounge; a look local designer Thomas Schoos achieved with gauzy fabrics surrounding a handful of semi-private cabanas, and touches like a white beaded curtain and an orange shag-a-delic rug. Look east to see the lights of Downtown LA, west to drink in the ocean and Santa Monica Mountains, and dead-center to tally the number of hotties at the circular 30-plus person bar. Strategically placed mirrors (don't get your hopes up, they're on the walls) and white-and-chocolate-leather fill the ultra-lounge and dining area, where chef Michael Reidt's down-to-earth, globally-infused menu serves items like the
Generation Y Surf and Turf
and
Angry Marshmallow Brownies
.
Not hungry (for food, anyway)? Opt to hang out under the skylight (often open to let in the cool ocean breeze) in the fireside lounge—a perfect excuse to "warm up" with a friend. In the end, you can always head downstairs.
After all, you're in the Penthouse.