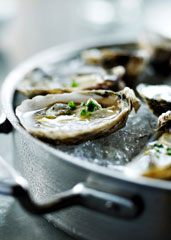 Oysters go nicely with many things.
A crisp Chablis.
Some hot sauce.
BierBeisl's chef.
Disco.
Stop us anytime...
It's fun to stay at the
Disco Dining Club
, a new underground dinner party getting down to old vinyl, perpetual oysters and disco-era debauchery (but they also work with great chefs and stuff). Tickets are now available for March 13.
It's a half-dinner, half-dance party happening every other month at a different place. Next one's in a production studio just west of Downtown. So open your contacts, look under "Fun People to Dance With," get tickets, consider buying a shiny shirt for the evening, don't do that.
When the night comes, you'll be received with an open bar with good California IPAs, rum, tequila and interesting drinks from some Berlin bartenders. And oysters promised endlessly. And all-vinyl sets of deep disco backed by a live brass section. Yup, typical dinner party.
You and your date will have reserved seats at a banquet table with 58 other new friends. But if you're all having fun dancing and want to keep that going until 1am, just drop by for occasional turkey schnitzel sliders and halibut ceviche cones from BierBeisl's chef. There's going to be a burlesque performance at dessert.
Not from BierBeisl's chef.