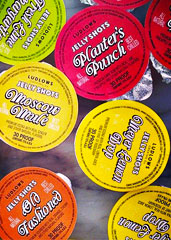 First the Coolhaus empire gave you ice cream sandwiches inspired by architects.
Seemed improbable that they could top themselves.
But now they're doing Jell-O shots inspired by Old Fashioneds.
Never underestimate these women.
Make way for
Ludlows Cocktail Co
.
Jelly Shots
, a new collection of jellified cocktails from one of the Coolhaus founders, hitting local liquor stores and Saucey's delivery app by Friday.
So, yeah, Jell-O shots are entering a new age of respectability involving real fruit and good liquor. Strange times. But when you really stop and think about it, there are definitely a couple of megaplex-going opportunities coming up that could be improved with a couple of discreetly stowed-away, unspillable Moscow Mules.
You can buy them individually or in a five-pack. So you can curiously ascertain what a solid Old Fashioned tastes like, or stride onto the beach and toss margaritas to your friends without drenching them in salt, tequila and glassware.
And take note for any rapidly impending holiday parties: their catering arm will bring the stacks of edible cocktails to you.
Great for anyone who's "not drinking" that night.