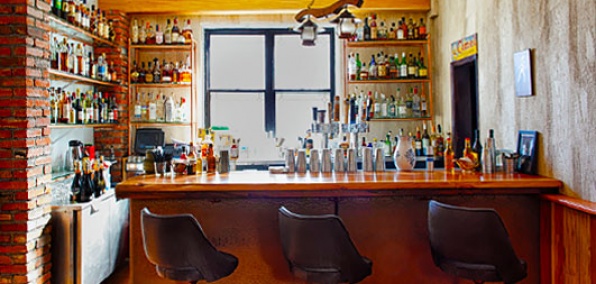 Look at that.

You made it through Monday... and now there's a new bar from two guys who've had important things to say about your drinks at ink. and Rivera.

Just gotta say, helluva week so far.

Keep it going at Brilliantshine, a new corner nook for damn fine cocktails, fortified wine and intermittent pork, opening tonight in Santa Monica.

Josh Goldman and Julian Cox. You've probably shaken their hands over some counters now and then. And now they've got their own place together. And this is that.

So someday soon, your group will want to follow your Tar & Roses dinner with a nightcap, and if anybody utters the word "Promenade," they are to be left behind and never spoken of again.

No problem. You'll walk (really, walk) to the old Renee's Courtyard space and dip into this rustic little corner saloon of red brick, coppertop tables and blond wood. You'll... probably be surprised by something on offer. Not really a static-menu kind of place. Maybe a Western Sour with bourbon, citrus and dried persimmons, or a red drink served in a lightbulb.

And for dessert: a Paiche vet's ceviche and uni-and-lobster rice, or some pork belly hash with egg and beets.

It's not served in a lightbulb.