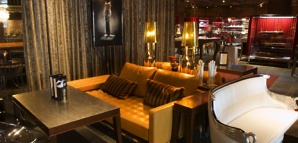 You'll recall we were recently
all about understatement
. Well...never mind.
When you're having a
Liquid Nitrogen Caipirinha
from a roving cart while sitting on a hairy barstool that looks like Cousin It, understatement is not the word that comes to mind.
Welcome to
Bar Centro
, the core of a surrealist high-end food court called
The Bazaar
by José Andrés
that's soft-opening Monday inside the new SLS Hotel.
First things first—after you valet, enter the lobby to the left, not the right. (Yes, there are two lobbies—one leading to the Bazaar, the other for hotel guests.) Here you'll get the over-the-top spectacle you came for. Regal dukes morphing into monkeys on leaning LED screens.
Margaritas with Salt Air
. A table encased in a cube of illuminated glass. Mojitos in shakers pouring over cotton candy. A hidden fortune teller. (She just might predict an unusual evening—we hear she's good.)
And after your
Caviar with Steamed Buns and Crème Fraîche
, your check will follow you if you decide to have a seat at the ham-and-cheese bar inside the Spanish restaurant
Rojo y Blanca
. Or at the mirrored communal table in
The Patisserie
, if your date's in the mood for some
Ganache and Wasabi Bonbons
, some
Lime Fizzy Rocks...
and perhaps a replica of the Titanic (from design temple Moss).
It's a small way to go big.