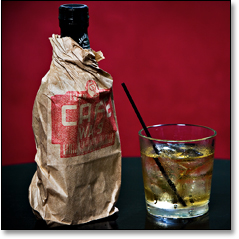 If there's one drinking tradition you'd deem overdue for an upgrade, it's the brown bag.  
Ivan Kane agrees with you. So he's now unveiling
Flask Service at his restaurant and piano lounge Cafe Wa s in Hollywood.
 
Consider his gesture a nod to these troubling times—by which we mean the economy, of course, but also the increasing frequency of pretentious $18 drinks around town. (You'll take your poison without the spritz of rosewater essence, thanks.) Call your trusted circle of drinkers, find your table, and order a flask of Jack, Wild Turkey or Dewar's—whichever of the eight options you select, it'll come in a brown bag, with half-carafes of the juices and sodas you might need to finish it off. Easy.
 
Since they say glasses are optional, though, you might not need any mixers at all—just the bottle, a little companionship and the mournful tunes emanating from the revolving piano at the center of this down-the-rabbit-hole hideaway. Once you get close to the bottom (of the bag), it might not be a bad idea to soak it all up with one of those nine-ounce Bistro Burgers, topped with prosciutto and a quail egg, sunny side up.
 
Doesn't come in a brown bag, but you'll make do.