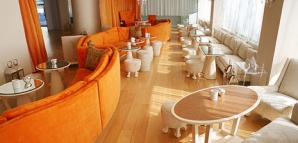 Between drinks at Asia de Cuba and drinks at Skybar, you often need... a between-drinks drink.

Here to finally address your thirst—ADCB, opening to the public on Friday night in conjunction with the unveiling of the newly redesigned Mondrian Hotel.

Upon entering the finally un-scaffolded building, you'll likely be distracted by a holy cross-shaped table in the lobby…but as far as sins go, you came for some leisurely gluttony (and maybe a little lust), which can be found behind the curtain to the left. Duck into a white loveseat against the wall if you're on a low-key date, but the long orange couch curving down the center of the narrow space works best to find one.

If you also want some between-drinks food, you'll find a shareable menu that recalls Asia de Cuba's fusiony-ness (ADCB stands for Asia De Cuba Bar). And if things go really well, you can have your Surf & Turf Sliders and Lemongrass-Lychee Margaritas delivered to your room upstairs. Among the improvements up there: mirrors that swivel all the way around to reveal a flat-screen on the other side.

Nothing like a little entertainment to go with your post-drinks drinks.