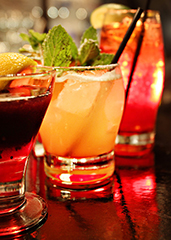 Don't get distracted by the
yellow walls and hot dogs
at Papaya King.
Well, all right, get distracted for a second. Have a hot dog. Try the
Pineapple Surprise
.
But you might be interested in this little tidbit: there's a live music spot that's hidden just beyond it...
Introducing
The Sayers Club
, Hollywood's classiest lounge to ever be accessed via hot dog shack, now open.
So yes—it all starts with a yellow door inside Papaya King, just to the left of the counter. There's no password, but there is a list, and you'll have to be on it. (Time to call in that favor with Gosling's hair guy.) You'll head through that door into a small, pitch-black foyer and say your hellos to the SBE crew (the Bazaar, the Colony) and Jason Scoppa (Bardot, Green Door).
Then, you'll step into what looks like a recording studio—think heavy curtains, old rugs and walls of acoustic tiles. Settle into your leather couch, order a round of Mexican Firing Squad Specials (tequila, lime, housemade pomegranate grenadine) and prepare to bump into Gossip Girls (Leighton Meester and Jessica Szohr have been in).
Just stay alert. At some point a stage will descend from the ceiling, drums and all, for a surprise set by anyone from Florence + the Machine to Miles Davis's keyboardist.
We hear the Machine love the chili combo.