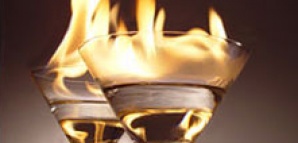 If only everything you drink could arrive in a ceremonial swirl of blue flame.

Fraîche restaurant, with acclaimed cuisine and fairly vanilla Culver City environs, isn't the kind of place you'd enjoy a secret, off-the-menu and vaguely illicit absinthe show.

Except that it is.

A sort of bar chef/cheerful mad scientist who has poured Champagne for the Clintons and the Prince of Thailand, Albert Trummer ferments his concoction in an antique tower he found in New Orleans. (He won't tell you what else is in there, but you can see a thick cluster of fresh herbs.)

When serving, he utilizes several other house-made potions on the counter—and an impressive amount of blue flame that caramelizes the sugar cubes, cascades inside the crystal stemware, and occasionally leaps through the air. (You might want to move your menu elsewhere, and make sure your girl's hair is fastened into a tight bun.)

The result is a sort of cultural exercise rather than hallucinatory trip—Trummer will tell you he's giving you a shot of a healthy elixir. The presentation is a spontaneous, by request, catch-him-when-he's-there kind of thing, though Wednesdays through Fridays are your best bet. Once you're properly elixired, other inventions like Champagne mojitos can keep you at the bar for quite some time.

Even if they're not aflame.