The bond between bartender and patron is a special one.
The company, the camaraderie, the expertly-crafted cocktails...
Unfortunately, once back at home, you're left to rummage through your cabinets and fridge like a hopeless alchemist, trying to turn bourbon, sherry vinegar and a half banana into an Old-Fashioned.
There might be a lesson about grocery shopping in here somewhere...
But the main takeaway is to enlist the experts at Cocktail Courier. They deliver comprehensive cocktail kits and easy-to-follow instructions straight into your outstretched arms, so you can whip up amazing drinks at home. Sign up here to get started.
The company works with thousands of professional bartenders around the country to create a rotating menu of award-winning recipes. If you see something that piques your interest on the site, you can order a cocktail kit as a one-time thing. But there's a strong possibility you're going to like this, in which case you'll want to really go for it with a subscription package. Just select your spirit preferences like vodka, gin, whiskey, tequila or rum, and a curated box of drinkable goodies will arrive at your door each month.
The kits arrive with pre-measured ingredients, including alcohol, mixers, fresh citrus and even garnishes, so you're not running to the store at 1 a.m. for a single mint sprig. And they're all accompanied by a straightforward recipe card with step-by-step instructions that'll turn you into a competent barkeep in minutes.
One month you might be stirring up a riff on a classic whiskey drink, while another you might be shaking together the makings of a mezcal cocktail that'll impress the hell out of your dinner guests. Something like the Para Todo Bien, which features Banhez Mezcal from a cooperative of Mexican farmers in the state of Oaxaca, plus Cocktail Courier's handmade pineapple syrup, Q Tonic Club Soda, fresh limes and some green chili salt to rim your glass. For you visual learners, it looks like this: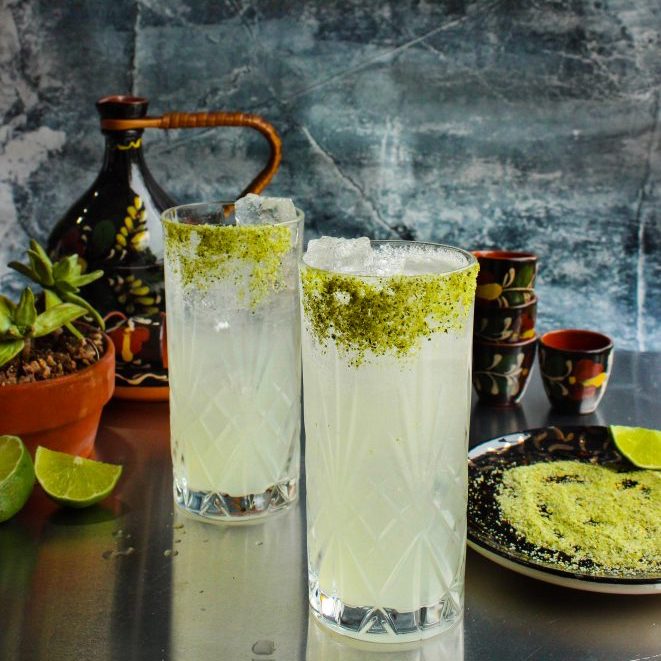 Para Todo Bien
1.5 oz Banhez Mezcal Artesanal
0.75 oz pineapple syrup
0.75 oz fresh lime juice
2 oz club soda
Instructions:
1. Add measured amount of all ingredients (excluding club soda) to shaker.
2. Add ice, shake hard.
3. Prep Collins glass using lime wedge and rimming salt. *As the garnish is spicy, we love a half-dipped rim.
4. Strain shaken cocktail into prepared glass, top with club soda and fresh ice, and serve.

All you need to supply is glassware, basic bar tools and ice, and... that's it. The rest is taken care of. Thanks to these kits, your house will become a well-stocked haven of spirits and mixers. You'll become a talented drink-maker. And your friends, well, they should really get some kits of their own.

Your generosity is only overshadowed by your thirst.