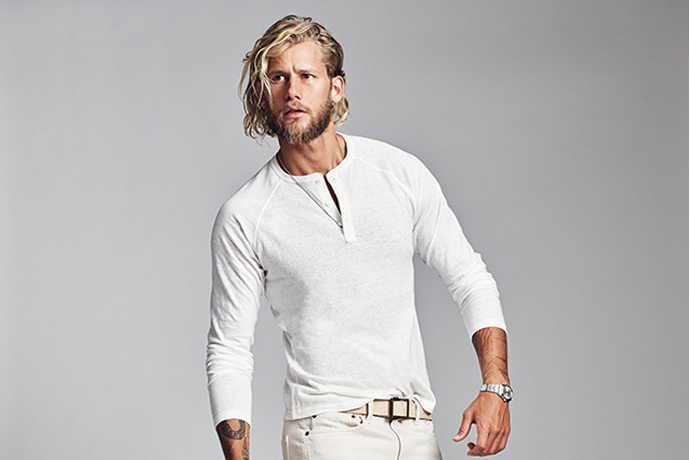 This is a humble, at times perhaps inappropriately erotic ode to a henley—a simple everyman's garment of which I am an unwavering devotee, as all men should be.
Doing the usual rounds of previewing the FW17 menswear collections, feeling materials, coveting that which I could not yet have, I came to the rack for Rivay, an NYC-based label, and my fingers ran across something airy and unusually pleasing to the touch. I pulled aside the surrounding pieces to reveal the full glory of
the Dane henley
, at long last, the Platonic ideal of the form.
The mark of a good henley is the ability to picture it on oneself, in all manner of situations, as soon as you feel it. The Dane transported me to visions of summer walks through gardens of as-yet-unclassified flora, off-day sandlot baseball games with the Chicago Cubs and even, for an instant, me wielding a maul, driving railroad spikes through the 19th-century American West, glistening, my sinewy muscles gently testing the shirt's tensile strength, for I had become an enhanced version of myself in this fantasy—a millennial Paul Bunyan figure. That, friends, is the transportational power of the perfect henley.
At this point you may want the details on its raglan construction, its unobtrusive clinginess and its Japanese cotton/cupro blend. But what, really, do the particulars matter, when you've found the one? All you need to recognize the potential power of that discovery is to look at the hair on that guy up there. That could be your hair, if only you were wearing this henley.