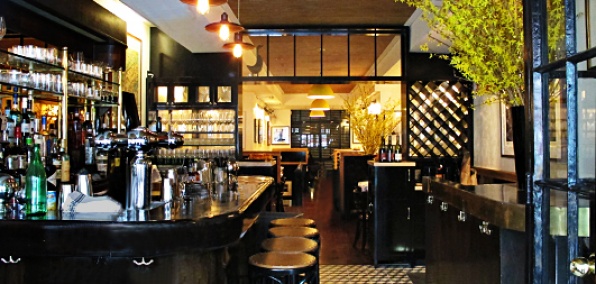 We're just going to dive right in today.

Actually, no.

Let's take it easy.

How've you been? Pretty good? Good.

Let's get some wine. Eat some French food. Chill in a garden.

It'll be like this place...

It's Montmartre, the kind of charming little French bistro that pretty much defines charming little French bistro, opening tonight in Chelsea.

Gabe Stulman. This guy's got a fever. And the only prescription is opening more restaurants. This makes three in the past year—after Perla and Chez Sardine. And those seem to have worked out... stellarly. This one's French. So very French. Provençal-garden-in-the-back French. Mmm. Yes. French.

We're just going to walk in a straight line today. Because this is a narrow space. One with a small, dark wooden bar just to the left as you enter. You know what to do there.

Now go further. Past the simple black wine rack. You've got a handful of small booths bathed in warm, sepia-ish light. We'll tell you what to do there. Eat blanquette de veau (veal stew) with someone disproportionately attractive, is what.

But keep walking. To alfresco gold. Once the local climate warms to porch-friendly levels, the garden is the only place to be. We can see it now: the sun gently warming your forehead. You're drinking malbec while wispy waitresses explain what French menu items are in English.

It's a tough job, but someone's gotta do it.