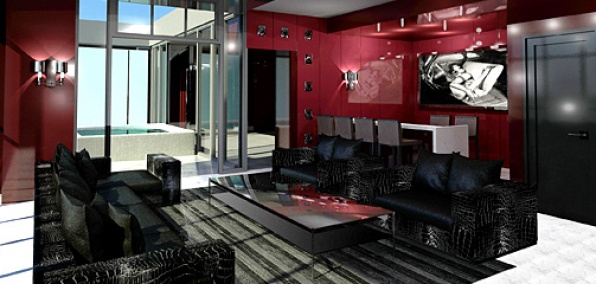 We're going to come right out and say it: we may have uncovered the most debauched place in Vegas.

It took a lot of digging and driving in white '80s limos to North Vegas—yes, we saw at least three things we will never un-see. But we're ready to name a winner.

As you've probably guessed, a human-size birdcage is involved.

Introducing the Provocateur Penthouse at the Hard Rock Hotel & Casino, a multimedia paean to humanity's basest urges, open now.

Consider it your invitation to a lost weekend of sin, complete with sex-toy room service and a shocking array of kinks.

As you step inside, you'll notice things are a little off. Instead of the usual complimentary pillow mints, you'll get a bedside tray of whips, paddles and bondage rope—to be used with those curious hooks on the coffee table, if you're feeling creative.

You'll find the pièce-de-résistance inside the guest room: three queen-size mattresses jammed together into a triple-wide playground of bedding, with video of scantily clad models projected onto the bedspread by a sound- and motion-activated computer system. (Somewhere, Steve Jobs is kicking himself.)

Oh, and that's not all: for simpler pleasures, venture through the mysterious second door in the master bathroom and you'll find yourself in a genuine sex dungeon, complete with a 6-foot birdcage. (We'll assume it's for really tall parrots.) When you're done, you'll slip out into the living room, ready to wash away the evening in the outdoor soak tub.

Bring soap.