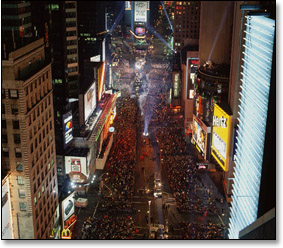 This whole New Year's Eve thing is a real pisser. On the one hand, who doesn't like to be in a room filled with people intent on having a good time? On the other, who wants to be anywhere near something so dicey? With high-priced tickets, intermittently open bars and the crap-shoot crowds, any which way you cut it, going out is a high-risk proposition.
But, the list below, for which you have UD Labs to thank, may help get you to the Promised Land: actual, unmitigated fun on New Year's.
Of course, as with any endeavor of this type, we wish you the best of luck.
The Party:
New Year's Eve at The Altman Building

The Details:
$150 gets you an all-night open bar, passed hors d'oeuvres and a champagne toast at midnight. A delightful bagel buffet awaits you in the morning.
For reservations call 212-217-0241
.

The Analysis:
The "
Target
" of New Year's Eve parties, sometimes it just makes sense to go out with no expectations of glory—go right down the beaten path and spend New Year's at a place where you know what you'll be getting. Namely, free booze all night and bagels at 3 a.m. While we're not sure what the crowd will be or what to make of the fact that this party is touting the "Live Ball Drop Simulcast," you are all but guaranteed companionship for what may be an extremely long night.

Likelihood of Good Time ("LoGT"):

Party:
"Enter the Dragon" at Hiro Ballroom

Details:
For $150 you get four hours of open bar and passed appetizers from La Bottega. A rundown of some of the more interesting claims: (1) there will be a "trendy meatpacking district crowd"; (2) go-go dancers and live
Cirque du Soleil
style entertainment; and (3) you should expect "many other surprises."
For reservations call Linsley at 212-727-0212.

Analysis:
Although we enjoy the Hiro Ballroom, this party has the "
Clubplanet
" stamp of approval, and that (along with the "trendy meatpacking district crowd" in this relatively small space) scares us.
Cirque du Soleil
-style entertainment under the influence, however, may prove worth the risk.

LoGT:

Party: New Year's Eve at Boudoir
The Details:
$135 gets you a five hour open bar from 9 to 2, passed hors d'oeuvres, party favors and a champagne toast in this
former Suite 16 spot
.
For reservations call 917-957-9595.

Analysis:
Owners
Vanity Fair
editor George Wayne and Frenchie pals will probably pull in a decent crowd, what with this being the Grand Opening and all. But with an inevitably finicky door policy to match all of the hoopla, it'll be your basic crap shoot.

LoGT:

Party:
"The End of Prohibition" at Employees Only

Details:
$250 gets you a four hour open bar, a dim-sum buffet and small plates including lobster, caviar and filet mignon in a prohibition style setting.
For reservations call 212-242-3021.
Analysis:
Although undeniably pricey, EO is consistently solid. It's not clear who the crowd will be and what effect that $250 price tag will have on the occupancy, but if all goes well, this will be a good one.

LoGT:

Party: New Year's Eve at Double Seven
Details:
For $250, enjoy a 5-hour premium open bar and what's probably the most legit food spread of the evening—passed hors d'oeuvres like crab croquettes and Vietnamese spring rolls, curry and pad thai stations, and passed desserts like mini volcano cakes, all courtesy of Lotus. They are also "trying to keep it controlled in terms of ticket sales."
For Reservations call Kara at 212-255-8060 x15.

Analysis:
It was the year of
Double 7
and, as such, this party will be the  New Year's Eve gold standard. The small size of the venue means a limited, swanky scene. Your biggest challenge here is at the door, but if you get in, you'll be in good company.

LoGT:

Party: The Setai Club Billionaire's Passport
Details:
This exclusive members-only South Beach club (founded by A-listers like Janet) is hosting a New Year's Eve weekend like no other—for a mere $195,000 you get a trip to The Setai Club via a G4 with pickup in a Bentley, overnight stay in a 10,000 square foot penthouse with 24-hour butler service, a celebrity stylist, and a custom-made "high flyer" watch designed by Jacob the Jeweler to deck you out for Noah Teppenberg's New Years Eve party at the
Setai
, followed by another event thrown by Nicole Richie and pals.
For Reservations call 212-947-7771.
Analysis:
There are no typos above, so you probably want to run this one by your entire group before booking. But, if you can get all the loan paper work squared away in time, what better a way to drop $195K?

LoGT: