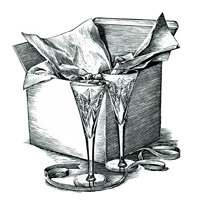 Daddy loves all of his women equally, though shopping for them ranks just above taking his own life.
But he shops anyway, and so should you:

For the Princess Who Thinks Smoking Pot Saves the World

Adventure Travel Trip to Mount Kenya

$695 per person plus approximately $1200 for airfare to Nairobi amounts to 8 days of hiking this volcanic
mountain—see abundant wildlife, cascading waterfalls, bamboo forests, alpine moorlands, and indigenous
mountain rain forests en route to Lenana peak, 4985 meters up.







...and if she wants to do good, but first needs a place to hide her stash

Adopt an Endangered Sumatran Tiger Cub at The National Zoo

$65 gets her a color photo and fact sheet of her new friend, a member newsletter, personalized certificate,
and, most importantly, a cute plush toy packaged in its own "animal carrier."







For Your Lady of Culture

New York City Opera Membership

For $500 she gets three passes to private dress rehearsals, an invitation to City Opera's annual Artist
Awards Luncheon, intermission hospitality in the private Green Room Patrons' Lounge, and invitations to
galas and benefits.







...for your lady of culture if you don't want to get dragged to the opera

MoMA Annual Membership

What gal doesn't claim to love MoMA? $75 gets her free admission for a year, plus exclusive exhibition
previews, special rates on admission tickets for guests, and discounts at MoMA Stores.








For the Most Self-Absorbed Woman You Love

A Day at Spa of the Moment, Cornelia Day Spa

The $900 Utimate 6-hour "Divine Detox" at Cornelia Day Spa says "I dare you to ask for more 'us' time this
week." Includes a rooftop soak in their Watsu pool, signature facial, algae wrap, and lymphatic massage,
paraffin manicure and pedicure.







...and if you only love her sometimes

Carrot & Sesame Body Buff at Bliss Spa

$165 scores her a carrot mulch and hot oil rub down, a warm milk and honey drizzle, and a hot wrap, and
finishes with a sesame seed and sea salt scrub. (No, this description is not in English; yes, she'll know
what it means.)







For the Woman Willing to Deal Intercourse for Good Food

Private Dinner by Angelo Sosa

$700 for a private unique and customized menu for two cooked by rising star chef Angelo Sosa (Jean
Georges, Spice Market, Yumcha, consultant to Alain Ducasse, Stephen Starr).
917-907-0036.







...and if spooning is her final offer

A Shake Shack Gift Card

$100 on a Shack card means your double Shack Burger habit is her habit too. Plus, the quickest way
to a girl's heart is with a strawberry Concrete.