I first landed in Istanbul, an idiosyncratic city straddling both Europe and Asia—it seemed like a good place to start. From there, I'd bop around the Balkans, a virtually undiscovered corner of the world for most Westerners, via long-haul buses and overnight trains. Before I knew it, baklava would consume the bulk of my diet, shots of honey Raki would become my drink of choice and I'd stop smiling at strangers, because no one smiles at strangers in Eastern Europe.
The region is an unexpectedly fascinating place, equal parts beguiling and baffling. The Balkan states make up the easternmost of southern Europe's three peninsulas, surrounded by the cerulean Adriatic, Ionian, Aegean Sea and Black seas. "Balkan" is actually Turkish for "mountains," as the bulk of the Balkans are peppered with mountains—the Carpathian Mountains forming Romania's northern border, the Dinaric Mountain range along the Adriatic coastline, the Balkan Mountains and the Rhodopes in Bulgaria, and Greece's Pindus Mountains.
So you've got sprawling seas fed by freshwater rivers like the Danube and Sava that snake through the mountains. And then there are the people who occupy these picturesque lands. Their fashion is somewhat stuck in the early 2000s, but their goat cheese is years ahead of ours.
Collectively, this region has a no-bullshit kind of culture, the unique result of ancient Greek, Persian, Roman, Byzantine and Ottoman empires. Today, the Balkans consist of 12 countries (though some have debated recognition). And while these countries are just as beautiful as their neighbors, they're much less expensive.
Here's your ultimate guide to where to go, where to stay, what to do and, most critically, what to eat and drink while you're in the Balkans.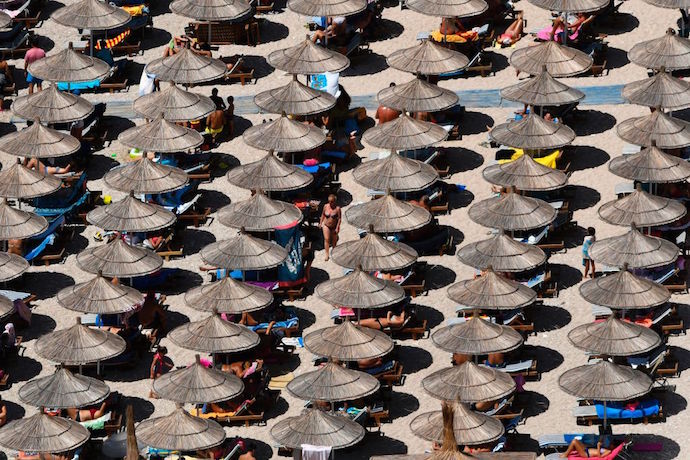 Himarë, Albania
Where to stay: Visitors are spoiled when it comes to places to stay, whether you stay along the pebbled beach or in the mountains lining it. Your best bet is to find a quaint Airbnb or homestay within walking distance to the beach, as hotels in this area are few and far between. This villa, for example, has balcony views of the Ionian sea, just a five minute walk away.
What to see: Himarë is a bilingual town, part of the Vlorë County. It's populated by an ethnic Greek community, so checking out all of the Greek-run shops and restaurants along the beach is an interesting cultural experience.
What to do: While Himarë is a beautiful beach to stay at, there's much more to the "Albanian Riviera." Rent a car and drive up and down the craggy, cliff-lined coast, especially at sunset. There are lookout points over the sea all along the way, but be sure to check out Dhërmi, Drymades, Borsh and Vlora.
What to eat/drink: Tavë kosi (baked lamb with rice) and rakija (fruit brandy)
Local knowledge: The best way to travel the "Albanian Riviera" is by renting a car (for about $35-$40 US a day including insurance) and driving the coast yourself. That's for two reasons: 1) public transportation is scarce; and 2) the drive is breathtaking, and you'll want to be able to pull over at the lookout points over the cliffs and snake through the windy roads at your own pace.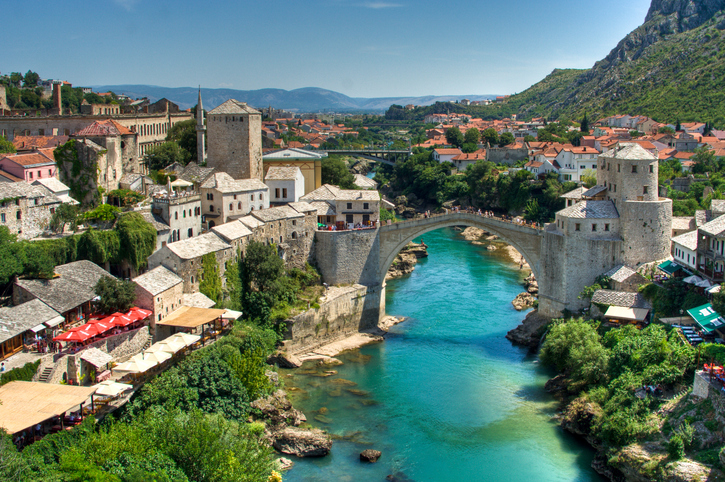 Mostar, Bosnia and Herzegovina
Where to stay: Hotel Villa Millas in Mostar is just about a five minute walk to the Stari Most "Old Bridge," a famous site in the center of the city, which was built by the Ottomans in the 16th century and is now a prime example of typical Islamic architecture and engineering. For getting around the city's sites, this is a prime place to be.
What to see: If you want to see some modern-day sites, check out the bridge diving. During the summer months, trained professionals dive from the top of the Stari Most bridge into the river about 66 feet below. There's actually an official annual competition, as part of Red Bull's Cliff Diving World Series, which is apparently a real thing.
What to do: Get lost in the Old Bazar Kujundziluk, the oldest and most well-preserved part of the city, where you'll find traditional artisan goods from copper items and carpets, to clothes, scarves, jewelry, pipes and more. Or take a bridge diving course and dive with the pros.
What to eat/drink: Klepe (Bosnian minced meat dumplings) and Slivovitz (plum brandy).
Local knowledge: Bosnia and Herzegovina has a complicated history, which means that, today, Bosnians can identify as Bosniaks, Croats or Serbs based on their religious affiliations as Muslims, Catholics or Orthodox Christians. They each have their own language, which means you'll probably hear three renditions of "Slavic" when traveling around the country, which is split along ethnic lines. So...fair warning.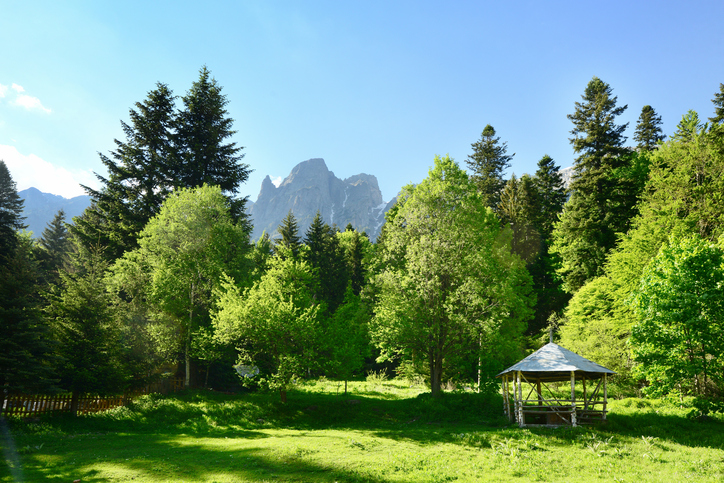 Rila National Park, Bulgaria
Where to stay: Rilets Resort & Spa is just about five miles from Rila National Park and a tranquil place to hole up before a trek (or to treat yourself to after one).
What to see: While in Rila National Park—established in 1992 to protect Bulgaria's ecosystems of national importance—you'll want to to check out the UNESCO-listed Rila Monastery, Bulgaria's largest monastery. You should also see the Stobs Pyramids, bizarre natural sandstone formations that've become a popular site among Bulgarian tourists.
What to do: Rila National Park is the largest national park in Bulgaria, spanning about 313 square miles in the Rila mountain range. Take a day to hike or bike around, and you won't be disappointed.
What to eat/drink: Banitsa (cheese-filled pastries) and Zagorka beer
Local information: Bulgarian people are blunt, to put it bluntly. If you ask a question, you'll be given an answer to said question and, likely, nothing more. They may be short, and you may feel socially awkward, but it's just a thing. Also, nod for "no" and shake your head for "yes." Speak French with "merci" for thank you and speak Italian with "Ciao" for goodbye. Don't ask questions.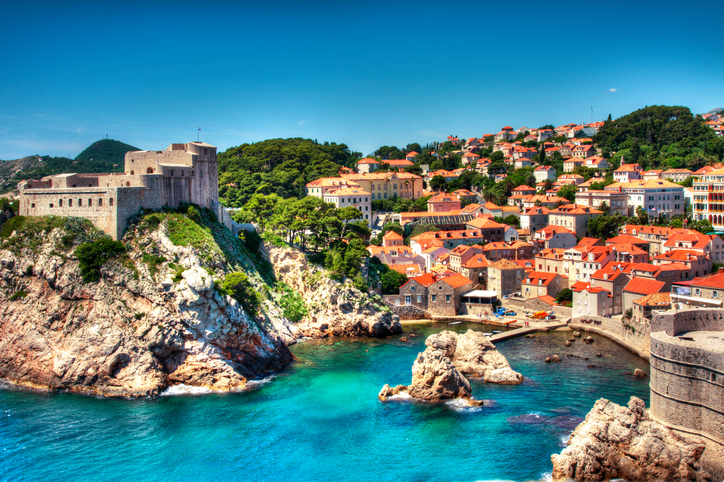 Dubrovnik, Croatia
Where to stay: Dubrovnik is known for its Old Town, which is the ideal place to stay. The Boutique Hotel sits right in the center of it all, just a short walk from the museums, galleries, theatres, cafés and bars.
What to see: Wandering the Old Town, which is encircled with 16th-century stone walls, you'll find well-preserved Baroque buildings, like the St. Blaise Church, Renaissance Sponza Palace and Gothic Rector's Palace, all of which are worth seeing. In general, however, you may recognize Dubrovnik, since Game of Thrones Kings Landing is Dubrovnik.
What to do: Walk the walls of Dubrovnik, a series of stone walls surrounding the city. They offers dramatic views of the city.
What to eat/drink: Miješano meso skewers and Karlovačko beer
Local knowledge: Croatia in general enjoys 2,715 hours of sunshine a year, so you'll want some serious sunscreen.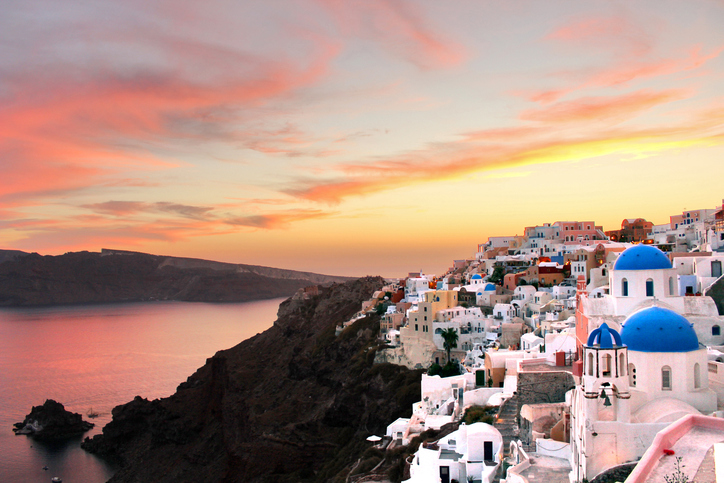 Santorini, Greece
Where to stay: If you're visiting in Santorini as a couple, Oia is where you want to be—it's the iconic, postcard idea of Santorini. But if you're visiting Santorini with friends or even solo, you'll want to stay in Fira, the center of town with ample nightlife and restaurant options. In Oia, Hotel Fanari Villas is a beautiful option with azure pools overlooking the sea. And, in Fira, Volcano View Hotel & Villas is another stunning seaside hotel.
What to see: If you're in Santorini, making your way to Oia for a sunset is an absolute must. Post up at any cliffside restaurant at dusk with a bottle of wine.
What to do: There's tons to do in Santorini, but beyond the multicolored beaches, there are a few things you can't miss: the vineyard, the ancient Greek ruins and the multicolored beaches. Santo Wines offers a terrace with caldera views from which to sip regional wines. Since opening in 1947, it's become the largest winery on the island, representing all cultivators. And the Greek ruins, the Akrotiri, are a Minoan Bronze Age settlement that was destroyed in the Theran eruption about 1627 BC and buried in volcanic ash. Today, it's been preserved for visitors, and legend has it it's the inspiration behind Plato's story of Atlantis.
What to eat/drink: Greek salad & ouzo (a dry anise-flavored aperitif)
Local knowledge: If you're prone to road sickness, pack some pills. The roads in Santorini are arguably the windiest hairpin cliff-side roads there are, and the Greeks don't do the whole speed limit thing. Also, wear stretchy pants because you will eat a lot, whether or not you'd planned to.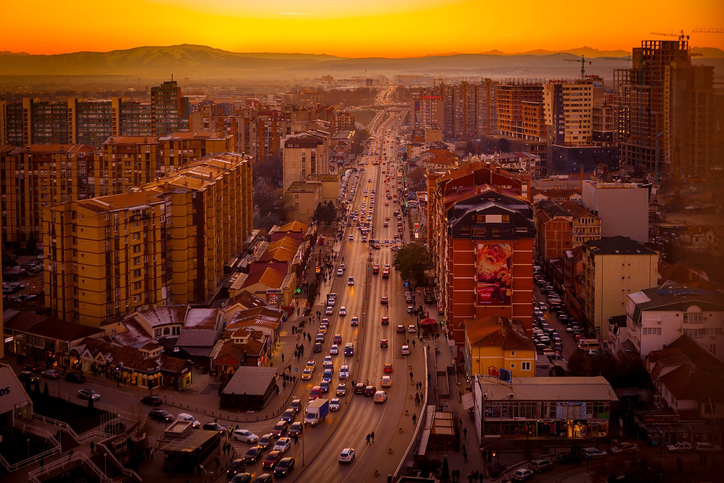 Pristina, Kosovo
Where to stay: Pristina is a walkable city, but if you stay anywhere along Bill Clinton Boulevard (read on for an explanation of that), you'll be centrally located. Hostel Oda is located right off the boulevard and boasts beds comfier than you could ever imagine—even if you're not a hostel goer typically, this homey, traditional accommodation feels more like a homestay than a hostel.
What to see: When you're in Pristina, you can't miss the National Library of Kosovo, which has been touted by some as the ugliest building in the world. The library was built in 1982 by a Croatian architect who built 99 white domes of different sizes, and it sits on the University of Pristina campus. You'll also want to take a stroll down Bill Clinton Boulevard, where you'll find a statue of the former U.S. president himself. After the Kosovo War of 1998 to 1999, the Kosovars wanted to pay tribute to Clinton for his help in their struggle with the government of Yugoslavia. As you might imagine, Americans are more than welcome in the country nowadays.
What to do: Pristina boasts hipster hideaways like Soma Book Station and Dit' e Nat'. Soma, for example, has a serious selection of books and vinyl on sale, and the central bar area is one of the most popular places to drink in town. Plus, its menu features everything from grilled fish to steaks and burgers. Meanwhile, Dit' e Nat' is the most popping brunch place in Pristina, and it's a vegetarian's oasis. The freshly made lemonade will cure the hangover of all hangovers. And it also just so happens to be a book store with more than a 1,000 titles, as well as a live music and film venue.
What to eat/drink: Flija (yogurt-filled pie) and Vranac wine
Local knowledge: The thing about the country of Kosovo is that not everyone agrees that it's even a country. In February 2008, Kosovo unilaterally declared its independence from the Republic of Serbia. Since then, it's still only recognized by 111 countries of the 193 United Nations, 23 out of 28 countries in the European Union and six of the seven G7 countries (i.e. China has not yet recognized their independence). Most Kosovars will call themselves Albanians and refer to Kosovo as "greater Albania," but if you ask anyone outside of Kosovo about "greater Albania," many will deny its existence. Serbians and Kosovars still have a lot of tension, so you won't be able to enter Serbia direct from Kosovo either, if you're planning to head there next—and you may have difficulty at the border of Serbia with Kosovo stamps.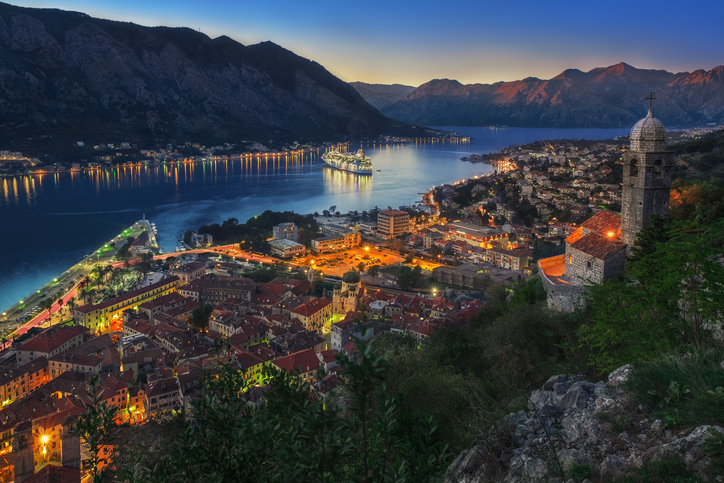 The Bay of Kotor, Montenegro
Where to stay: The Old Town in the Bay of Kotor is a walled off oasis. Inside the stone walls are cafes, restaurants, bars and shops, as well as gelato stands and buskers, like violinists you'll find serenading pedestrians. The Old Town itself is a romantic place to stay, and to get a real feel for it you might consider the Royal House. The stone-walled apartments with a kitchen and patio are just a six-minutes walk to the beach.
What to see: Kotor itself is a UNESCO World Heritage site. You'll want to wander around the Old Town and get lost in its winding alleys, or relax on the waterfront and watch the yachts and cruise ships roll in.
What to do: Climb "the stairs"— Kotor's Castle of San Giovanni. There are two ways to get to the top of the approximately 1,350 stairs: you can pay and climb them or you can take the "free way" around back. Ask the backpackers around the area for the "free way," and someone will give you directions. You won't actually walk up the stairs, but you can walk back down them, and there'll be far less tourists en route up. From the top, you'll get panoramic views of the Bay of Kotor.
What to eat/drink: Cevapi (skinless sausage barbeque) and Montenegrin wines
Local knowledge: People smoke everywhere, even bus drivers, so be prepared for wafts of it if you're a non-smoker.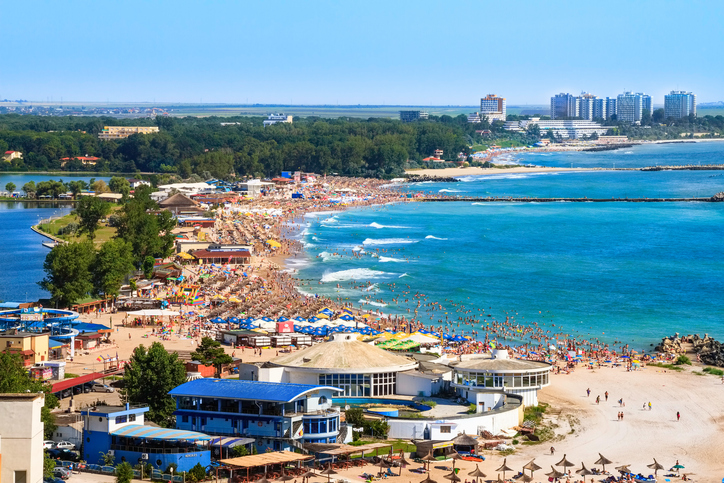 Vama Veche, Romania
Where to stay: Vama Veche, not to be confused with the Romanian rock band, is a village in Constanţa County. It sits on the Black Sea coast, just near the border with Bulgaria. In short: it's party central. Aging hippies and bearded hipsters alike have convened in Vama Veche since it was developed in the '80s as an artist haven. Today, it still boasts a sort of countercultural, rebellious vibe. Many people who visit, and are committed to the culture of the place, camp on the beach.
What to see: You'll likely see nudists at the beach, is one thing.
What to do: Party… on the beach.
What to eat/drink: Mici (minced meat rolls) and Tuica (Romania's version of moonshine)
Local information: Romania is the fifth booziest country in the world, and the booziest of the Balkans. As in: the average Romanian consumes more than three gallons of pure alcohol each year, so prepare your liver. And your appetite—the portions are huge, and it's considered very rude not to finish your plate. Vegetarians, travel elsewhere.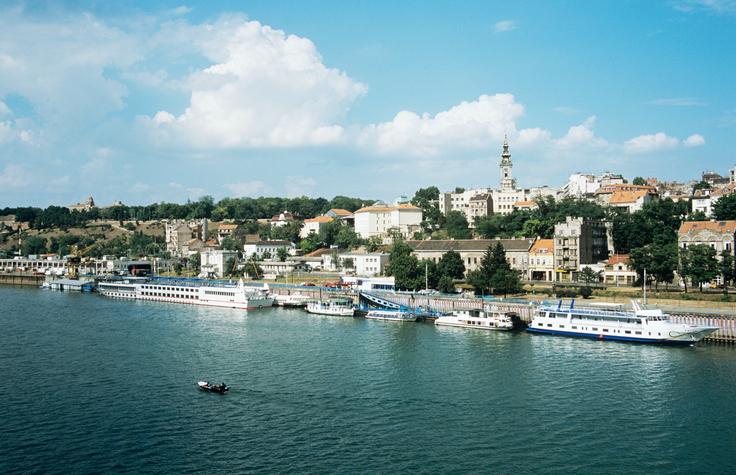 Belgrade, Serbia
Where to stay: Belgrade's Stari Grad (Old Town) is full of quaint, traditional restaurants along flowery cobblestone streets that'll take you back centuries. Staying anywhere near the Republic Square, the center of the old town with tons of shopping and outdoor restaurants, would be convenient. The Belgrade Inn Garni Hotel is an ideally located 4.5-star hotel just a short walk from the square and just around the corner from traditional restaurants.
What to see: Take a stroll to the Beogradska Tvrđava, an imposing fortress at the confluence of the Danube and the Sava rivers. Not only is it an impressive structure consisting of the old citadel and a testament to the city's importance to the Roman, Byzantine, Ottoman, Serbian and Austrian empires, but it also encases the expansive, lush green Kalemegdan Park.
What to do: Take a bike ride around (and a dip in) Ada Lake, which is more or less an artifical beach in the center of the city. Then head over to Skadarlija to eat in a traditional restaurant and, often, hear live traditional music from buskers. After you eat, make your way to the pulsating Savamala district, where floating nightclubs hug the riverbanks, or Car Park, which is pretty much a literal car park dotted with bars and clubs.
What to eat/drink: Pljeskavica (minced meat patty) and specifically honey rakija
Local knowledge: The bus and train systems in Serbia are a nightmare—plan ahead of time, but don't bank on any modes of public transportation running on time or as according to plan. Likewise, taxis are a royal pain—there are tons of types, but be sure to either download Taxify (like Uber, for Serbian taxis) or only take the pink taxis. The others will charge you multiple times the rate, even with the meter on.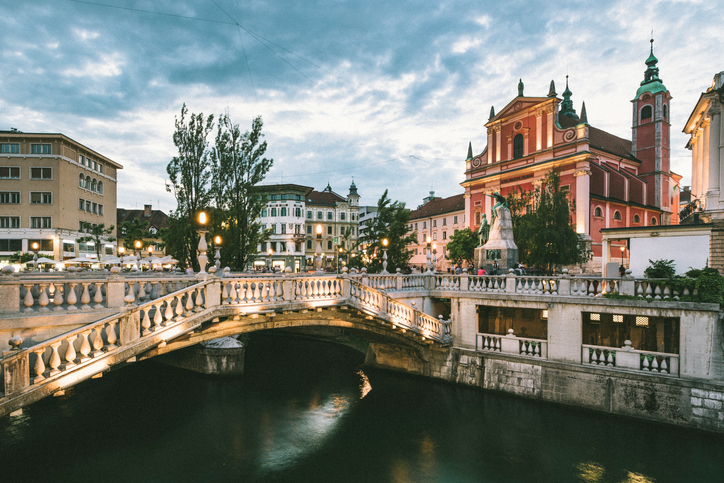 Ljubljana, Slovenia
Where to stay: Slovenia's capital and largest city, Ljubljana, is peppered with universities and caters to a younger crowd. Along the Ljubljana River, for example, there are tons of alfresco cafes and bars dividing the city's old town from its commercial hub. The Vander Urbani Resort offers unparalleled views of the river, as it's the only hotel there.
What to see: Ljubljana's Old Town is worth a stroll. Prešeren Square is part of the Old Town's pedestrian zone, and practically the de facto meeting point in the city. Tons of festivals, concerts and political protests take place there next to the bronze statue of the Slovene national poet France Prešeren. His poem, Zdravljica (or A Toast) became the national anthem.
What to do: History buffs should be sure to check out the National Museum of Slovenia, while creative types should pop into the Museum of Modern Art. For those who'd much prefer to people watch, Tivoli Park is the greenest place to do it, and outdoorsmen head over to hike near Lake Bled.
What to eat/drink: Kremsnita (custard cake) and Laško beer
Local information: Slovenia has a decent train network that connects across to both Austria and Croatia, and it's relatively simple to use given how small the country is. That said, getting a car to drive around is probably your best best, but you'll need to purchase a vignette (a road tax) to be allowed on the motorways.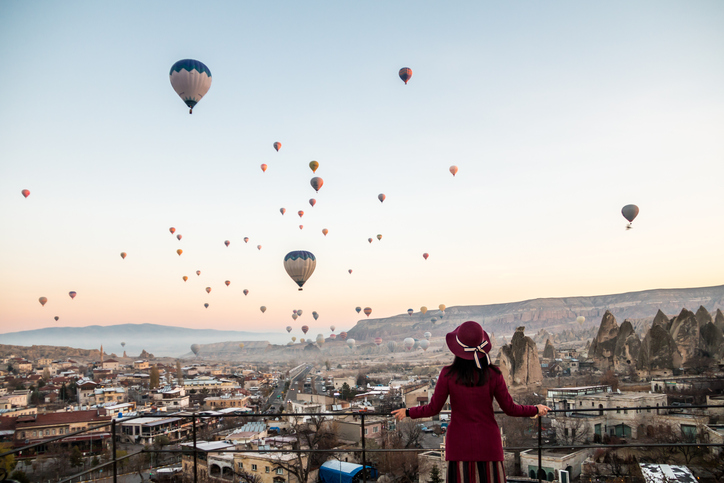 Cappadocia, Turkey
Where to stay: Göreme is the most famous towns in the historical Cappadocia region, known for its majestic fairy chimney rock formations. The surreal landscape of carved-out rock formations emerged due to a geological process the began millions of yeas ago when ancient volcanic eruptions swathed the region in thick ash, which later solidified into soft rock called "tuff." With years of wind and water, these craggy rocks, in which people have since built homes and hotels, were formed. Star Cave Hotel, which boasts authentic cave suites, is located in the heart of the town and offers outstanding views of the surrounding fairy chimneys.
What to see: In Göreme, you'll want to get up for sunrise and head to Sunset Point, a hilltop overlooking the town. From there, you'll see as many as 150 hot air balloons take off with the rising sun.
What to do: Take a hot air balloon ride over the fairy chimneys yourself. Royal Balloon, for example will pick you up at 4 a.m., feed you a breakfast buffet and then take you up for about an hour, before landing with a champagne toast and chocolate-covered strawberries--just like in an episode of The Bachelor!!
What to eat/drink: Manti (Turkish Ravioli), Baklava and Turkish Coffee
Local knowledge: Just be prepared for drunk, grown men to break out in dance in the middle of the streets at all times.