Few activities scream "summer" quite as loudly as driving your lovely date to an outdoor movie theater, sharing a soda, eating some popcorn and pretending to watch some black-and-white film while you coyly attempt to steal a kiss. It's basically a rite of passage for young lovers—or at least it used to be.
And because we're nostalgic for this kind of stuff, we're helping you approximate that timeless summertime experience by rounding up seven of the most romantic open-air cinemas on earth. You know, in the event you have a hot date in Ibiza or Sydney coming up soon...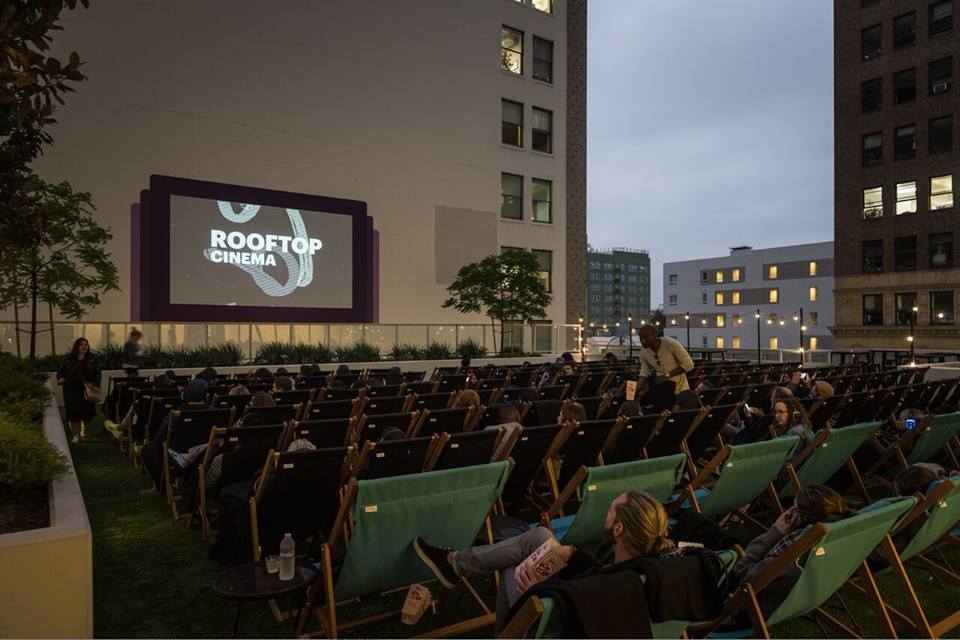 Rooftop Film Club—Several Locations
Every location of this informal film club, from San Diego, to Los Angeles, to New York, to London, has one thing in common: a gloriously serene rooftop above a bustling metropolis below. This season, you'll be privy to modern classics like Baz Luhrmann's Romeo & Juliet, Anchorman and Moonlight. Guests are even given wireless headphones to enjoy the films devoid of distractions (read: the hubbub of the city). Wireless headphones: the modern romantic's listening device.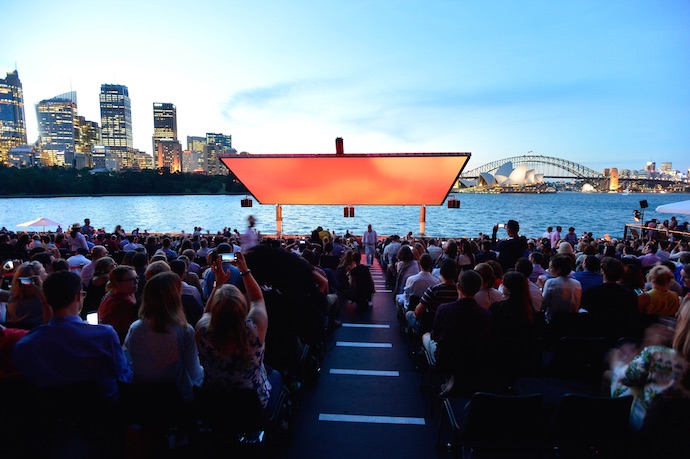 St. George OpenAir Cinema—Sydney
With the harbor as a backdrop, boasting views of the Sydney Opera House and the Harbour Bridge, and local restaurants serving up the food, this open-air cinema in Sydney takes romance to unparalleled levels. That's why close to 2,000 people show. If you're planning a trip, nag tickets for next season—which starts in January, because they enjoy summer at a different time of year than we Americans do—sooner rather than later, as they're not the easiest to come by.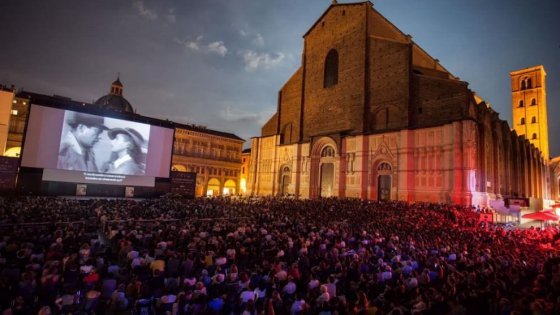 Cineteca di Bologna—Bologna
Because the Italians love their movies, come summer, Cineteca di Bologna transforms the city's Piazza Maggiore into one of the most historic outdoor cinemas, with 51 screenings each season and eight nights dedicated to a classic film series called "Il Cinema Ritrovato," or "Cinema Rediscovered." Moviegoers are surrounded by Renaissance architecture on all sides, and the dome of the Sanctuary of Santa Maria della Vita rises behind the screen. And while there are numerous English-language films on the schedule, it couldn't hurt to brush up on your Italian.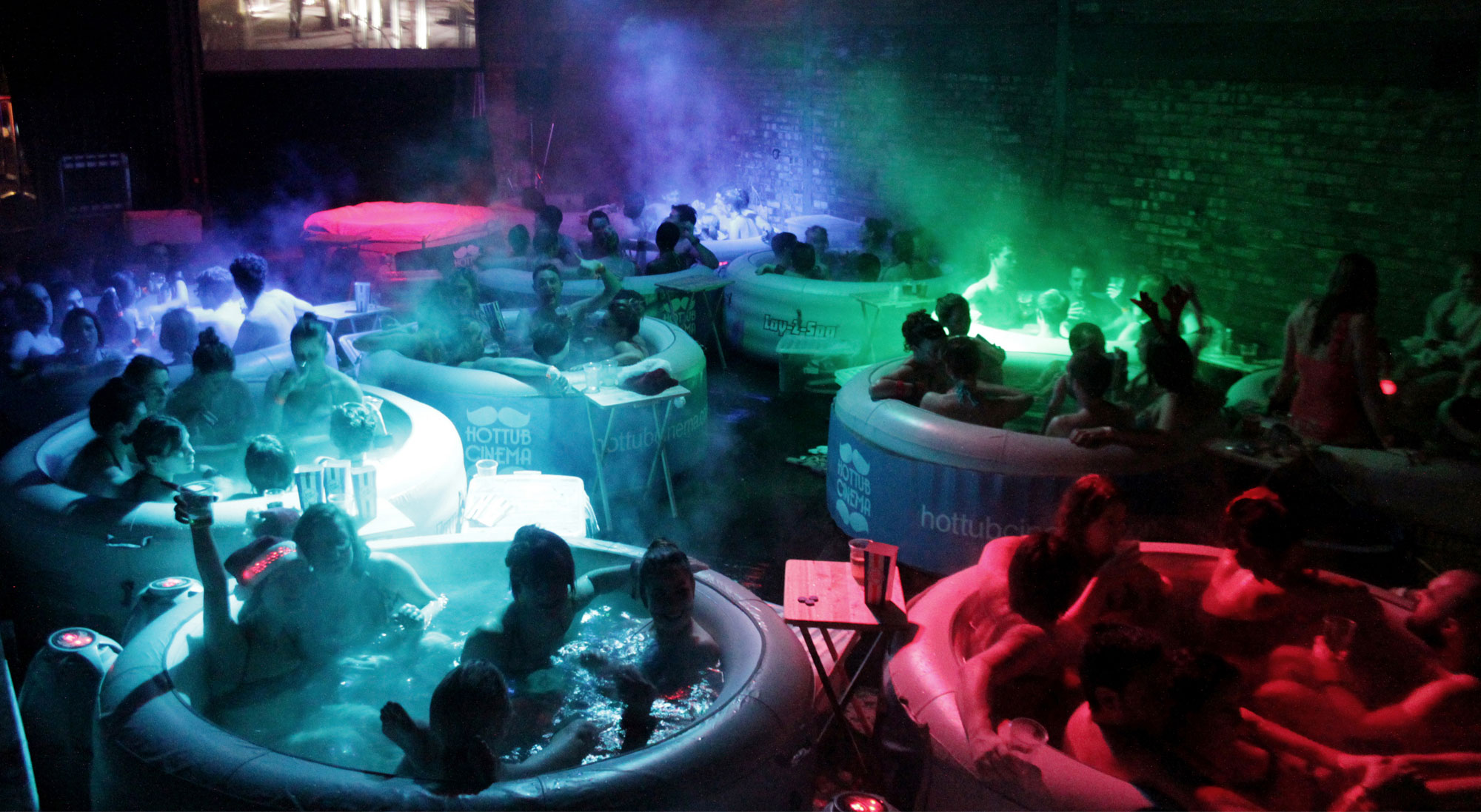 Hot Tub Cinema—London
What could be more romantic than watching your favorite film from a hot tub set up in quirky spots across London? (Don't answer that.) Though there's no fixed location, Hot Tub Cinema pops up around the city with 30 bubbly hot tubs, two screens, a surround-sound system and waiters, so you don't have to brave the chill of stepping out of the tub every time you need a drink. Of which you will require several.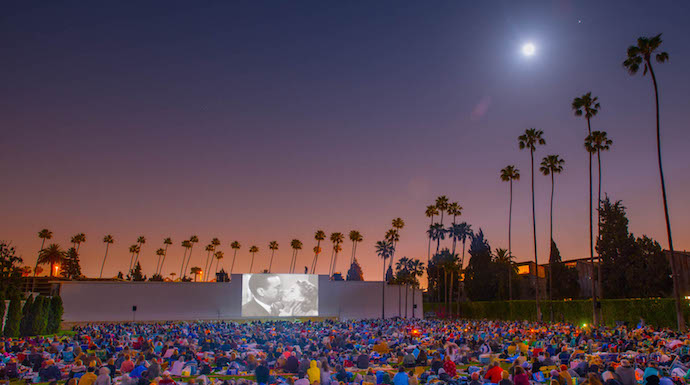 Cinespia at the Hollywood Forever Cemetery—Hollywood
Normally, the thought of watching a movie in a cemetery isn't exactly romantic, but the historic Hollywood Forever Cemetery carries an aura of aspirational Hollywood luxury and style. You won't have to worry about sitting on any graves, given the vastness of the lawn, but you should get there early to scout out the final resting places of Hollywood legends like Jayne Mansfield, Peter Lorre, Rudolph Valentino and Mel Blanc. We're sure they'd appreciate it.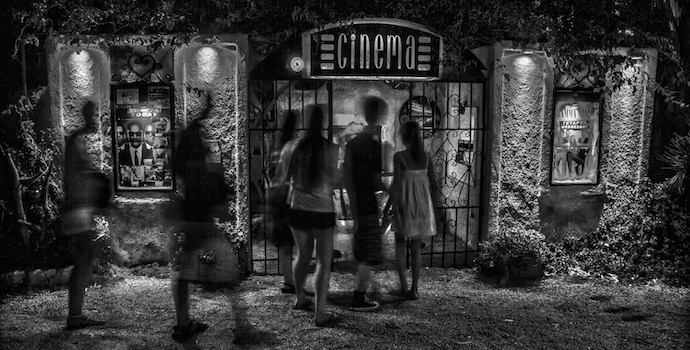 Cine Kamari—Santorini
Santorini is romantic in and of itself, what with its sunset points atop white-washed cliffs and uncovered restaurants that overlook the Mediterranean Sea. To boot: it contains the charming Cine Kamari, which was built back in 1987, and pays homage to the Greeks' love of theater by screening films and hosting cultural events like concerts, plays and art exhibitions in a lush garden on one of the country's most iconic islands. You'll take tickets for two, please.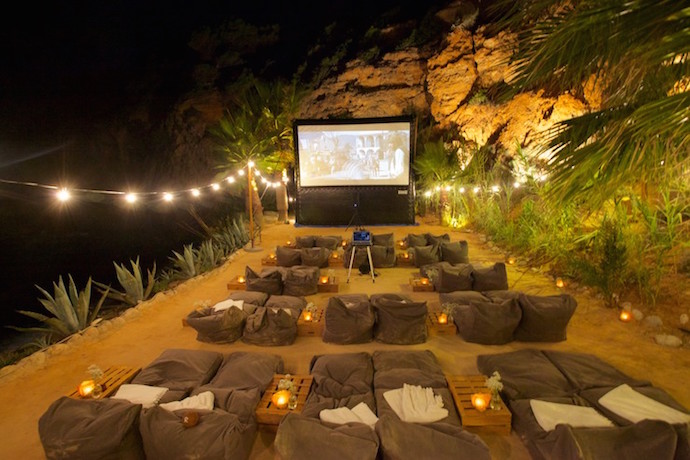 Amante Movie Night—Ibiza
Picture gentle lapping waves, floodlit rocks and a starry sky. Then picture you and your special someone curled up with popcorn, wine and blankets on a full-length bean bag chair, taking in a classic or modern romance. dramatizing your already romantic classic or modern movie. The beachside setting of Amante Movie Night sits near Santa Eularia and screens movies every Tuesday throughout the summer. If you just so happen to be in Ibiza over the coming months, you won't want to miss it.