There's no shortage of lovely places on this planet where stripping down to your birthday suit and frolicking freely in a body of water sounds inordinately gratifying. That's simply a fact of life. A weird fact of life, sure. But a fact of life all the same.
Unfortunately, because of pesky things like "rules" and "laws" and "notions of public decorum," you can't get naked in a majority of these places without either offending tourists or getting yourself arrested. Which is why we've scoured the earth to find only the most clandestine—yet picturesque—watering holes, from the majestic lakes of India's Udaipur, to Iceland's steaming Blue Lagoon, to Teddy Roosevelt's preferred locale in Central America.
Yes, you might still get caught. But isn't that part of the fun?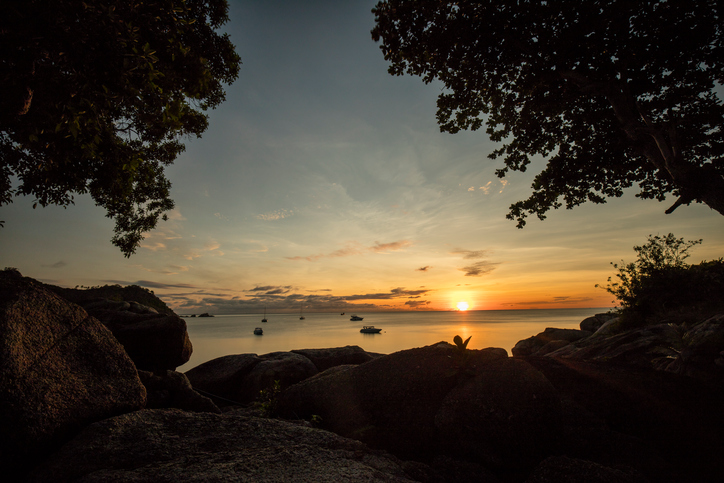 Haad Yao East Beach, Koh Pha Nagn, Thailand
You may be familiar with Koh Pha Nagn island if you've ever been in or anywhere near Thailand, as the majority of the Sak Yant-tattooed backpackers who congregate in Southeast Asia have partied there—with tens of thousands of clones—at the monthly Full Moon Party on Haad Rin beach. But when the island isn't hosting a massive moon festival, it's a relatively quiet, actually quite off-piste slice of paradise. Most Thai island hoppers keep west of Krabi, and this is one of the few acknowledged islands on the east side, about a three-hour drive east across the country and another almost-two-hour ferry from the coastal town of Surat Thani. Once ashore, finding Haad Yao East, Haad Rin's barely-heard-of sister cove, is even more difficult to reach. It can only be accessed by boat (that'll only sail with enough passengers aboard) or 4x4 truck through harshly rocky jungles. It does host some smaller festivals, like Lost Paradise, but the very few people who'd actually make the trek here when there's not blaring music and an abundance of…other illegal things…are probably cool with public nudity.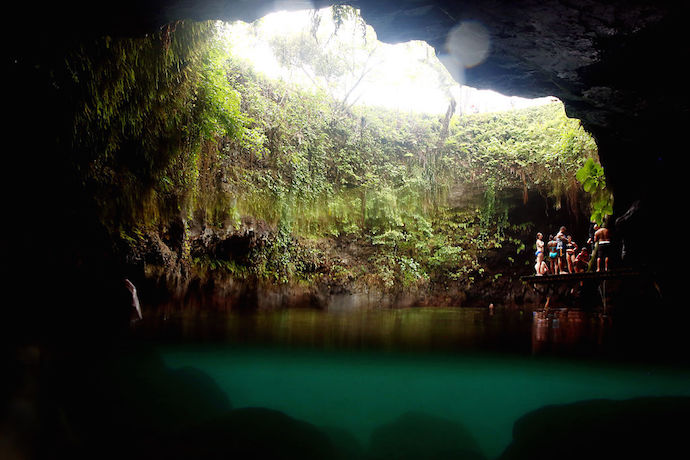 To Sua Ocean Trench, Lotofaga, Samoa
The name "To Sua" literally translates to giant swimming hole. If that's not an invitation to get naked then…okay, it's not exactly an invitation, but it's certainly intriguing, isn't it? The nearly 100-foot-deep pool is a volcanic sink hole—so, just take a second and imagine swimming in a lava field (but, like, a not-dangerous one). It sits in the Lotofago village on the south coast of Upolu Island, characterized by unspoiled nature, and there's a convenient ladder to clamber down on into the crystal clear waters fed by the South Pacific. Here's the catch: humans discovered it long ago, so, despite being hidden in lush vegetation, you'll want to go early in the morning, before anyone else has the opportunity to join you.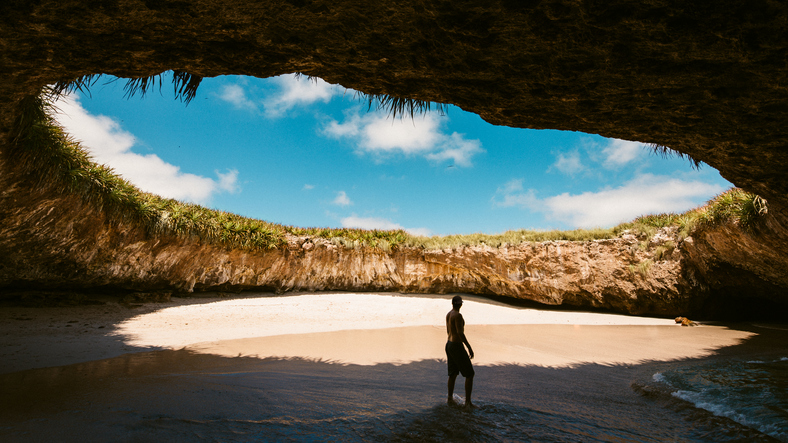 Hidden Beach, Marieta Islands, Mexico
Hidden Beach is exactly what it sounds: a hidden beach. With your bathing suit still on, you'll have to swim through a small tunnel in Mexico's Marieta Islands to reach the remains of a bomb site that's miraculously become a gaping hole housing a super-secluded skinny dipper's slice of heaven. The surrounding area is blanketed in dense green vegetation that opens up in a near-perfect circle—a window to the naturally shaded pool of water washing up onto it's very own small stretch of sand. But it's only a short ride away from Mexico City, so it's best to skinny dip this spot by night, when boggled tourists are long gone.
Fairy Pools, Isle of Skye, Scotland
The U.K. isn't exactly known for spectacular weather that lends itself to swimming in the nude—or swimming at all. But the blue and green Fairy Pools at the foot of the Black Cuillins, in Scotland's Isle of Skye, are worth taking a dip. A path will guide you to the waterfalls and their (fair warning: cold) pools, all of which are picturesque, but some of which are more private than others. It takes about 20 minutes to reach the first and largest waterfall, which often welcomes wild swimmers and nature photographers alike. But keep on trekking along the less-trodden path, and you're sure to find a peaceful place to disrobe.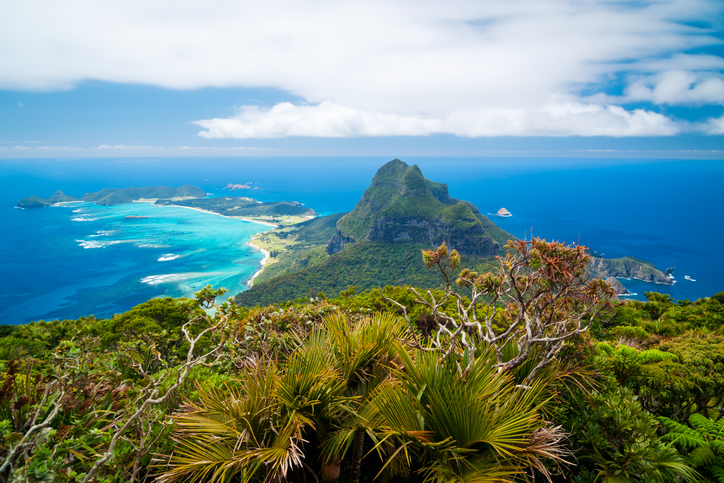 Lord Howe Island, Australia
You won't have too hard of a time avoiding other tourists' eyeballs when there's a cap limit of 800 of 'em. Only 400 outsiders are allowed on Lord Howe Island, a UNESCO World Heritage site just outside of Sydney, at once. Most of them get around by bicycle, which you may want with you in the event that you need a getaway vehicle. The subtropical, forested island is engulfed in the Tasman Sea east of Port Macquarie, and Ned's Beach in the north, for example, isn't a bad choice for your skinny-dipping exploits. Just don't swim too close to the corals—there are lots of them, and they can't feel good on exposed skin.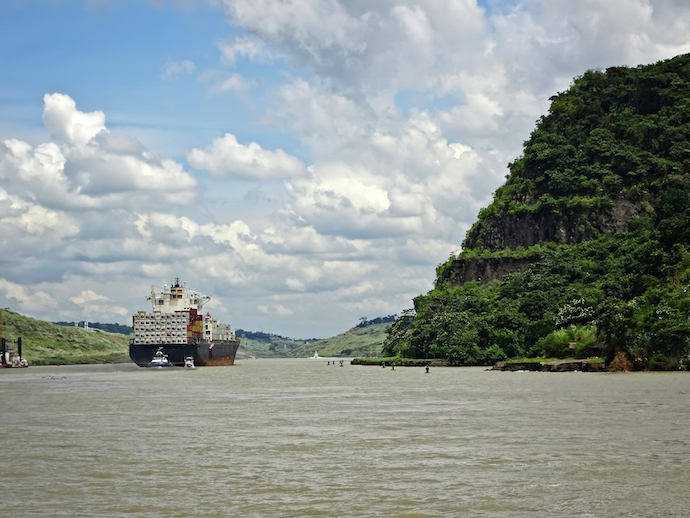 The Panama Canal, Panama
This is a bonus entry, because it's not necessarily private, but it is both unassuming and legendary. Here's the thing: no one actually expects to find anyone skinny dipping in the Panama Canal. For one, crocodiles have been spotted chilling out by the locks and eating not only fish, but also fishermen. For two, colossal vessels carve their way through the narrow waterway, which would certainly take out a stunned streaker. But legend has it that Teddy Roosevelt bared all at the site during the canal's construction nearly a century ago—and so we can't blame you for itching to follow suit. The key here is to dip and dash, and do so a ways away from the action. If you get arrested, or worse, you didn't get this idea from us...