The sound of a thunderous trumpet rolled dangerously close. And then something moist and fuzzy struck me in the back of the legs, right at the bend of the knee. I crippled. Fortunately, her foot missed my face on the way down and, aside from the water I drank through my nose, I came out unscathed. After she barreled into the river herself, I laid there in the rocks ruminating on the fact that an 1,800-pound baby elephant had just head-butted me. And I'd survived.
I like to think she was mudwrestling. We'd just taken a bath and she was on a high after I'd scrubbed muck on her belly. Plus, we had a good thing going, and all of the elephants at Into the Wild Elephant Camp were playful that morning in the lush Thai jungles in the north of Chiang Mai. I was there with just a handful of other travelers, in the middle of acre upon acre of open fields and dense vegetation.
Thailand is a bustling backpacking mecca of Southeast Asia, attracting almost 33 million travelers in 2016 alone. And though the world-renowned islands summon many a gap year student and honeymooning couple alike, the north is quite the cultural experience. Chiang Mai, in particular, is a charming corner of the country, and a stopover for many a-digital nomad. An echo of peace permeates the city, emanating from the many ornate Buddhist temples lying within the old city walls. Food stalls saturate the air with smoke, selling chicken skewers and sausage and Pad Thai and seared pla pao, erupting with smells that could alone sate one's appetite. And the city is surrounded by green mountains as far as the eye could see—and as high, given its claim to Thailand's tallest mountain, Doi Inthanon.
Of course, Thailand is also known for its elephants, which, in Asian cultures, symbolizes good luck, prosperity and endurance. The Thai elephant is actually the official national symbol of the country. Hanging out with an elephant in Thailand is, therefore, one of the biggest draws for travelers, and it's easy to do. But the thing is: There are a million elephant "sanctuaries" in Thailand (and all across Southeast Asia, for that matter) that aren't actually sanctuaries at all, but rather quite the opposite. It's not so easy to find a reputable camp that cares about and protects its elephants. Unfortunately, because these gentle giants are such big business, many camps are beset by animal abuse.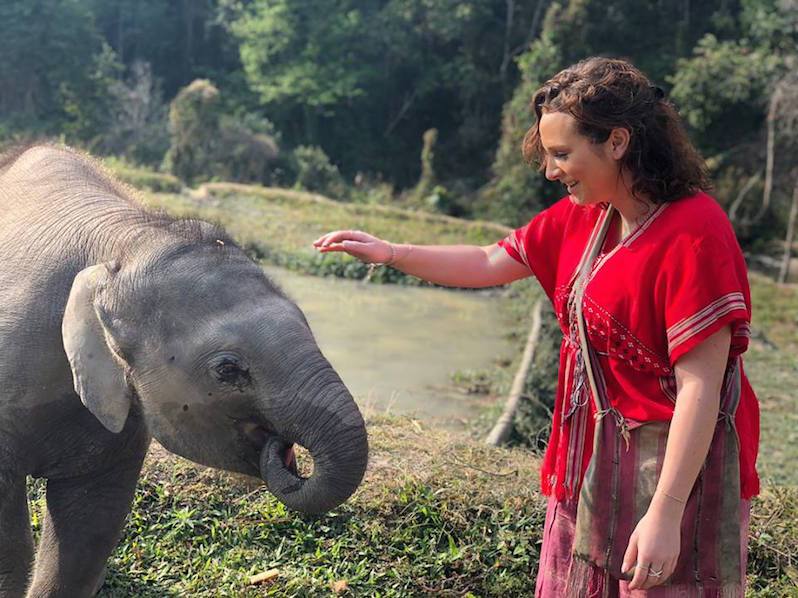 A well-taken-care-of elephant has room to roam and isn't overworked (and therefore starved) by constantly performing in shows or giving rides to tourists. Perhaps more obviously, it's neither chained up nor commanded with sticks or hooks—but, for whatever reason, many people still visit camps that mistreat their elephants in these ways.
I almost decided against the whole elephant park thing altogether, until I spoke with locals who recommended Into the Wild time and time again. I couldn't find any brochures for the place, and there's no website, so visiting was a risk I wasn't sure I was willing to take. But I was promised that the company forbids anyone from riding the elephants and, instead, visitors can only feed and play with them. And I really couldn't leave Thailand without meeting a local icon.
So I took a two-hour truck ride from Chiang Mai's old city up to the camp, where I was greeted by multiple elephants, young and old, and a guide, Pai, who gave us a rundown of the camp, which has been around for just two and a half years. We first spent some time feeding the elephants leaves and bamboo so they could warm up to us, though they stuck their sprouts right into our satchel's of food. Elephants may spend 12 to 18 hours a day feeding on 200 to 600 pounds of food. We didn't have that kind of time—or nearly that many leaves on hand—so we eventually wandered off to walk with them while they grazed on the green shrubbery shrouding the jungle in shade.
After our long walk, we gave each elephant a mud bath and took a swim with them to wash and cool off. Of course, wallowing in water and romping around in mud is more than just fun for them. It thermoregulates their bodies, while also providing a protective layer to shield them from the sun's rays and respite from insect bites.
Plus: it makes for some seriously slippery skin for these gigantic mudwrestlers, against whom us feeble humans don't stand a chance.