Rolling rice fields, terraced tea plantations, sprawling mountains blanketed in vegetation, buffalo-peppered farms, indigenous villages... I'd read all about it: the seven-hour "Most Scenic Train Ride in the World."
And there I was. Hour nine. One and a half sweaty butt cheeks slipping off a tray table, straddling an Italian woman sandwiched in the seat before me. My knees to her ears. My back to the Turkish toilets reeking like the product of food poisoning—my guess is that the warm pineapple sprinkled with flies frozen in its juices, making its rounds, did someone in.
Marco Polo once claimed Sri Lanka the "best island of its size in the world," and since gaining independence from the British in 1947, the country has attracted wide-eyed wanderers like myself who tend to agree. Its geographic location between Southeast Asia and India makes it a convenient stop for transient backpackers, who've been passing through in droves since the country's civil war ended in 2009. But those who come often stay far longer in the "Pearl of the Indian Ocean" than they'd anticipated—as I did. Something about the diverse landscapes, from rich rainforests, to arid plains, to blonde beaches, all governed by enchanting mountains, is like an oasis for nature lovers. Sri Lanka, despite its size, boasts the highest biodiversity in Asia, plus ancient Buddhist ruins dating back thousands of years.
Most everyone who visits the country nowadays takes the famous 85-mile train ride from the major city of Kandy to the small, mountainous town of Ella, known for its trekking, waterfalls, the Nine Arches Bridge (an early 20th-century engineering marvel) and chilled-out cafes. Originally introduced in 1864 by the British Colonial government to transport tea from the hills to the capital city of Colombo, the route has since become a super affordable way to take in the picturesque countryside—and also witness some of the damage done from the 2004 tsunami. The train wreck from the tsunami is still the largest single rail disaster in world history—some 1,700 people lost their lives, and evidence of the wreck still litters the tracks.
In short: The train ride from Kandy to Ella is a seven-hour amalgamation of splendor and horror. The journey boasts beautiful landscapes and tells tales of Sri Lanka's storied colonial British history, as well as its resilience from natural disaster.
And yet, despite all that, part of me almost wanted to forgo the hill country altogether. After three months backpacking through Southeast Asia, the latter portion of which was spent in dusty villages along the Mekong River, the beaches were beckoning. Besides, Kandy was still coming out of a city-wide lockdown, and the government had only just lifted its crisis-enforced curfew. The country had declared a national state of emergency for the first time since its civil war ended in 2009—Buddhist/Muslim clashes had set some of the city ablaze. I figured skipping it lest I find myself caught in the looming cost of conflict would be the "smart" thing to do.
But I also assumed, and ultimately confirmed, that the news can be rather embellished these days (go figure). Kandy was crawling with locals and backpackers alike. At its center is Bogambara Lake, engulfed in mountains teeming with tea plantations and biodiverse rainforests. Hidden in the lush foliage are sacred temples—most famously, the Temple of the Tooth (Sri Dalada Maligawa in Sinhalese), a shrine that houses the relic of "the tooth of the Buddha." Barring the thunderous traffic, Kandy is a calm city. The only fires I found were those beneath barefoot dancers. They were performing the traditional Kandyan dance, during which they wondrously walked over fiery coals.
I'm not discounting the experiences of those caught in the conflict, but generalizing the country as some unstable threat is just a perpetuated lie. Still, transient, I'd only spent one night in Kandy itself. I was really only there to hop aboard this legendary train.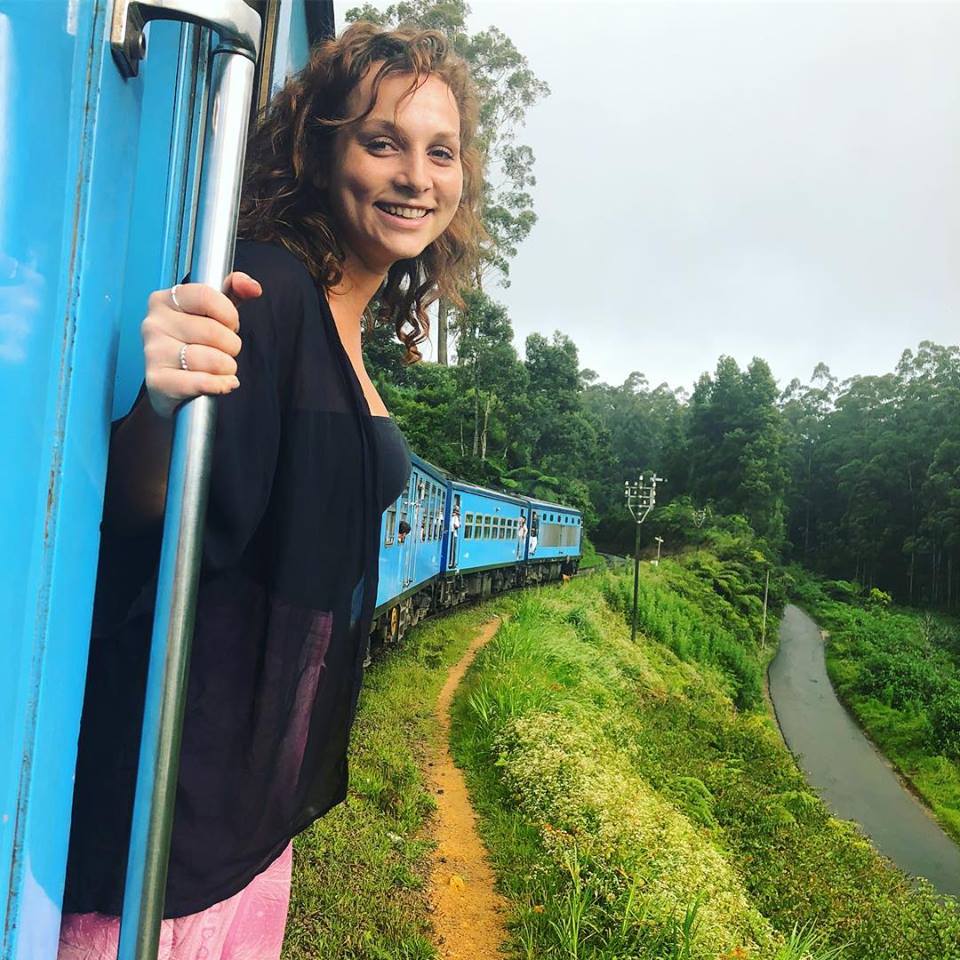 So, I bought my second-class ticket somewhere around 7:45 the next morning, procured a mutant banana for breakfast and waited at the tracks for the train's highly anticipated arrival, with approximately one million other elephant pants-donning, trek pack-toting ramblers (and maybe two locals). In retrospect, I seriously regret not eating a bigger breakfast.
When the 8:30 a.m. train arrived promptly at 9 a.m.-ish, we all shouldered our way inside. Sri Lankan men jostled through each car, climbing over roasting bodies packed tightly together. I'd rejected the Medu Vada (spiced urad dal batter fried in donut-shaped dumplings) they were selling in newspaper-lined baskets when I first boarded the train. I didn't want to fall victim to some debilitating digestive situation, like those who'd soured the bathroom before me. But after more than a few hours of feeding on nothing but spiced peanuts, it became clear to me that resistance would be a futile feat. That dal started to smell as good as sweet creamed corn at Thanksgiving dinner.
Though we'd all purchased second-class tickets, none of us were guaranteed a seat—and hardly any of us got one. A Kiwi couple seated in the car I managed to clamber into wisely boarded at the city just before Kandy. And though they'd done so to secure themselves seats, they offered to share with three Italian women and I, who weren't so fortunate. We all took turns sitting in the seats and on the accompanying tray tables.
You can almost forget you're sweating on strangers' laps when you're rattling through a kaleidoscope of colors—greens, blues and earth-tones rushing by our windows, carried in with the breeze. Every so often I'd wipe the sweat salting my eyes to get a glimpse of the monkeys swinging alongside the train tracks or the buffalo and other grazing animals feeding in the passing pastures. And if I meditated on them long enough, the mere sight of rushing waterfalls almost refreshed me.
Yet of all the breathtaking places we could've gotten stuck (and this journey did not disappoint on breathtaking places!), we got stuck at a sewage plant. People passed us going the opposite direction, and it only then occurred to me that perhaps we should've taken the Ella to Kandy route instead—you get the same views without all the other humans.
Part of me was envious of those who hopped on at Hatton, many of whom complete a sunrise climb up Hatton's Adam's Peak, a mountain known for the Sri Pada (or "sacred footprint") rock formation near its summit; the ride from Hatton to Haputale is widely considered the most scenic part of the journey. But the other part of me internally accused them of cheating—and I felt lucky to have seen what they'd missed. I'd put in my time, and I felt rewarded for it.
In the end, another train came to push us from the sewage plant to Ella. And I went on to consume copious amounts of curry and much-needed beers with my new friends. I even went on to travel the hill country and the entire length of the southern coast with the Italian women with whom I'd shared seats, peanuts and all-too-similar overseas romance stories. Eventually, we even shared beds. And they still got my knees in their faces, but only because I double as a zombie acrobat by night. I'm leaving Sri Lanka come morning, and I'm already feeling separation anxiety.
Ironically, the "most scenic train ride in the world" may not have been the most pleasant journey. But the juxtaposition of the car's claustrophobic squalor with the expansive natural beauty right beyond its walls rendered Sri Lanka's beauty that much more beautiful; had the train been more luxurious, outfitted with the standard comforts and amenities, I may not have been so compelled to look outside, and ruminate on what I'd found.
The things I might've missed.